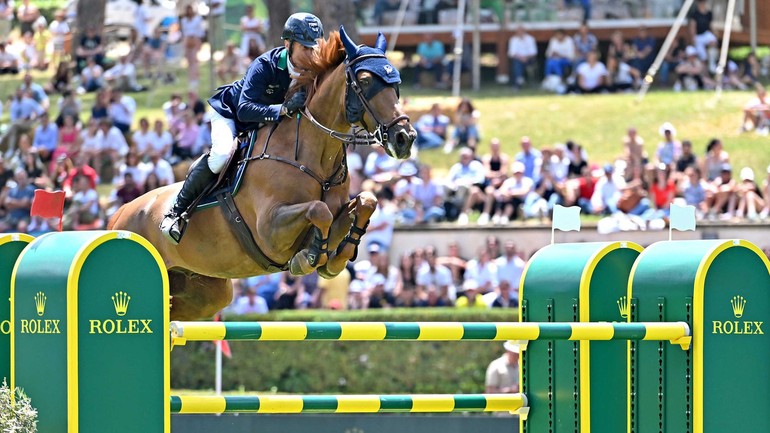 Denis Lynch and Brooklyn Heights won the Rolex Grand Prix of Rome. Photo © Sport e Salute / S. Ferraro.
Press release from CSIO Rome Piazza di Siena
---
In 2008 he did it with his great horse Lantinus, and today, riding a gelding he only began competing four months ago, Ireland's Denis Lynch once again won the Rolex Grand Prix at CSIO5* Rome - Masters Fratelli d'Inzeo 2022 at Piazza di Siena partnering Brooklyn Heights (Nabab de Reve x For Pleasure).
In a fascinating 50-horse contest that saw 16 horse-and-rider combinations go clear over Uliano Vezzani's first course but just 13 coming back to decide the result in the second round, the Irishman already had the advantage. With the quickest round first time out he would be last to go against the clock so he knew exactly what he had to do by the time he set sail. And he delivered in style, pipping long-time leader Jana Wargers from Germany while Italy's Piergiorgio Bucci kept the home crowd very happy when finishing third.
Podium-decider
Wargers was one of three Germans to make the cut into the podium-decider, and the 30-year-old rider who is based at Ashford Farm in Belgium really threw it down to the rest of them when second to go with the 13-year-old stallion Limbridge (Limbus x Cambridge) who had just a single fence down in Friday's Intesa Sanpaolo Nations Cup.
Vezzani set them a jump-off track without a single straight line so winning would all be about balanced turns, absolute accuracy and the courage to run like the wind. And Wargers and her handsome bay horse matched up to all that to set a truly tight target when racing through the timers in 43.19 seconds.
Italy's Emanuele Camilli and Chadellano PS (Chacco-Blue x Centadel) left all the poles in place over the new track too, but their time of 47.26 was no threat when fourth to go while Belgium's Nicola Philippaerts and Katanga VH Dingeshof (Cardento 933 x Tornedo FCS) were a second quicker but still a long way off the leading time when they came into the ring. Third-last, Italy's Piergiorgio Bucci was closer when breaking the beam in 45.78 seconds but then last-to-go Lynch changed the picture completely.
As he explained this evening, he has only been riding Brooklyn Heights since February of this year and their early time together was a little shaky. However things have now really come together for the two of them.
Quick
"When I got him in the beginning I tried to go quick and it was disastrous, but in the last few weeks the horse has really grown with me, and given me and him incredible confidence. I didn't think I was that quick actually as I was riding around so the horse must be naturally very fast across the fence", he explained.
He didn't walk the jump-off course - "but I was in a good starting position (going last) and what really motivated me was Jana - I knew I had to to do better than her or forget it, and the last Irishman that actually won this competition was me so I had a good feeling. On Thursday my horse jumped great, he was great in Madrid, he nearly won in Mexico so he is really fond of big grass arenas so I think I took advantage of that and his form - he's in great form - and I love Bella Roma! I have some great memories from here….", he added.
It was Dutchman Eric van der Vleuten who told Lynch about Brooklyn Heights last year. "He said he could be an interesting horse although he is quite strong. He's a bit special, I've never had a horse like this before with his mentality. He's not typical, he likes to be hacked out, you don't work him at home, he's a special character and when we tried him and bought him we thought he'd be a good 1.50m horse. When he jumps 1.10 it feels big, when you jump 1.20 it feels big but when you get him in the arena in a good canter he really excels and it's really incredible what he's done today!", said Lynch who as an Irish winners follows in his own footsteps from 2008 and in those of the legends Eddie Macken with Boomerang in 1978, Capt William Ringrose in 1961, and Capt John Lewis in 1938. A place on the Rome Grand Prix Roll of Honour is something every rider truly cherishes.
Reflecting
Reflecting on his success, Lynch continued, "I think what I learned from 2008 with Lantinus is that when you come to a show like this with a great horse you really have to give it your best, and give that horse the best opportunity, and on a day like today it would be disappointing if I made a mistake because he didn't want to make a mistake. That's what these great horses teach you. You have to give them your full focus and concentration because they are rare, and I'm very lucky to have a great horse again!", he pointed out.
Lynch indeed felt privileged to post this precious victory at Piazza di Siena and another man who has taken this honour twice is Canada's Eric Lamaze who with the legendary Hickstead took the trophy in 2011 and then returned to do it all again with Zigali PS in 2014 and who is now Chef d'Equipe for Team Canada. He also has a special place in his heart for CSIO Rome.
Picturesque
Yesterday Lamaze said, "this is one of the most picturesque events in the world, there is nowhere like CSIO Roma Piazza di Siena."
"CSIO Roma Piazza di Siena used to have grandstands around the arena. As riders we thought it was fine, but we never realised how beautiful this venue was without the grandstands, so I would much rather have it like this. When the public watch and they can sit anywhere and lounge on the grass – they are completely relaxed which is great and it is less troubling for the horses as they have less people close to them".
Today one horse that revelled in that environment was the 2022 winner of the Rolex Grand Prix at the 89th edition of CSIO Rome - Brooklyn Heights who carried Ireland's Denis Lynch to a very memorable victory.