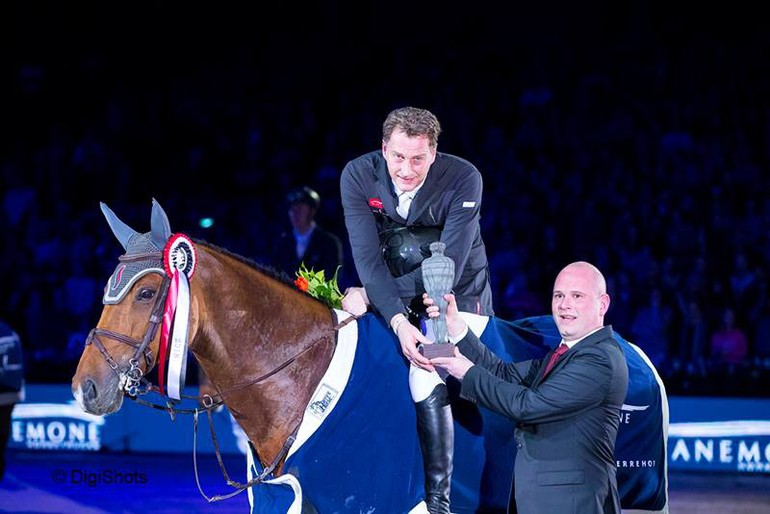 Marc Houtzager and Sterrehof's Calimero won the Grand Prix of Amsterdam. Photo (c) DigiShots / www.lejano.com / Jumping Amsterdam.
Fittingly enough it was Marc Houtzager and Sterrehof's Calimero (Quidam De Revel x Achill / Libero H) that won Sunday's CSI4* Anemone Horse Trucks Grand Prix of Amsterdam powered by Stoeterij Sterrehof. "It was super nice to win. Especially because Stoeterij Sterrehof is co-sponsor of the Grand Prix," smiled the happy winner after the class.
After a weekend dominated by the home riders, it was yet again a Dutch win in the concluding competition at Jumping Amsterdam and with the five riders in the jump-off representing the hosts the spectators at the fully-seated RAI arena were in for a treat.
First out against the clock over the shortened eight-fence track set at 1.60m height was Kevin Jochems on Captain Cooper (Namelus R x Corland). The young and talented Dutch rider did not have luck on his side though, and took down two poles on his way.
As next to go, Michel Hendrix continued his good form with his top-horse Baileys (Indoctro x Come On) putting pressure on those to come with a clear round in the time of 41.81 seconds. However, it looked like it could be beatable with a bit more risk.
Michael Greeve took a cautious approach on Whitned Bb (Nabab De Reve x Calido I) and opted for a steady clear, and just according to plan he did just that in 42.16 seconds to slot in behind Hendrix. And, when Frank Schuttert took down the b-element coming out of the combination on Chianti's Champion (Champion Du Lys x breeding unknown) things were starting to look good for Hendrix.
But, as last to go Marc Houtzager and his 11-year-old gelding wanted it different. The two opened up the gallop on the first line, and tightened the turns everywhere – approaching the last fence the clock was ticking fast though and when the pair crossed the finish line they did so just ahead of Hendrix with a time of 41.30 seconds to take home the win in front of an ecstatic home crowd.
"I did not know if I was on my way to win during my jump-off," Houtzager said after his victory. "Between jump no. one and two I made a stride less than Michel, and everywhere else I could just do it nicely. It was really nice that I won as last to go, and certainly because my sponsor Stoeterij Sterrehof is also co-sponsor of the Grand Prix. Jumping Amsterdam is a fantastic show. The audience is so enthusiastic. It is not often that the crowds stay for the prize giving ceremony and celebrates the riders, but here they do."
"I certainly tried to win here," said runner-up Michel Hendrix. "I did not quite get the right distance to the first fence and then I had to add another stride again. It was a technically difficult Grand Prix, and it was nice that there were five Dutch in the jump-off."
---
Text © World of Showjumping // Picture © DigiShots / www.lejano.com