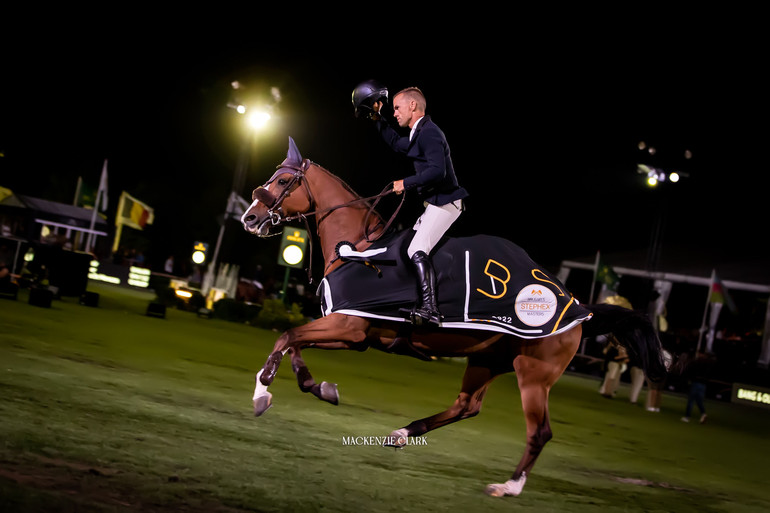 Wilm Vermeir and Joyride S won the CSI5* 1.50m presented by Bang & Olufsen at CSI5* Brussels Stephex Masters. Photo © MacKenzie Clark.
Belgium's Wilm Vermeir and Joyride S (Toulon x Pachat II) opened the weekend at CSI5* Brussels Stephex Masters with a win in Thursday night's 1.50m Table A presented by Bang & Olufsen.
With a time of 66.84, Vermeir bested a field of 35 participants, leaving Stephex Stables' own Daniel Deusser (GER) and Kiana van het Herdershof (Toulon x Lys de Darmen) to runner-up position with 0.68 seconds separating the two. Eduardo Pereira De Menezes (BRA) and H5 Elvaro (Calvaro F.C. x Heartbreaker) placed third after stopping the clock at 68.89 seconds, while the fourth place went to Denis Lynch (IRL) on GC Chopin's Bushi (Contendro II x Nairobi) and fifth to Stephex Stables' Petronella Andersson (SWE) on Kulana V (Thunder vd Zuuthoeve x Cash).
Earlier in the day, a CSI5* 1.45m in two phases, went to Fernando Martinez Sommer (MEX) on High Five (Glasgow vh Merelsnest x Corland). With a time of 31.30 in the second phase, the Mexican was the quickest of the 43 horse-and-rider-combinations at start. Martin Fuchs (SUI) and Commissar Pezi (Commissario x Böckmann's Lord Pezi) took the runner-up position with a time of 31.45, while Dominique Hendrickx (BEL) on No-Comment de Septon (Jenson van'T Meulenhof x Couleur Rubin) placed third, Bryan Balsiger (SUI) on Dubai du Bois Pinchet (Kashmir van Schuttershof x Andiamo) fourth and Stephex Stables' Emilie Conter (BEL) on Legolas Ter Wilgen (Emmerton x Chin Chin) fifth.