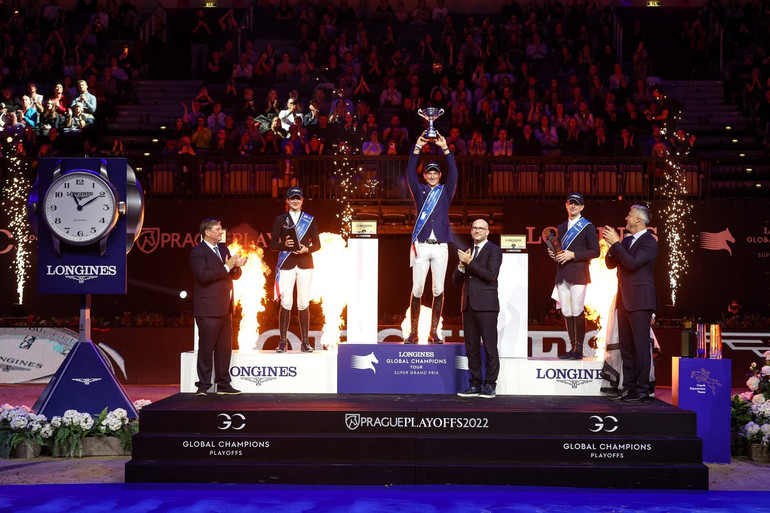 The podium in the €1.25 million Longines Global Champions Tour Super Grand Prix: Daniel Deusser, Katrin Eckermann and Mclain Ward. Photo © GCL.
Edited press release from GC Prague Playoffs
---
In a thrilling display of horsemanship and elite sport, Daniel Deusser (GER) and Scuderia 1918 Tobago Z (Otangelo x Mr Blue) were crowned winners of the coveted 2022 €1.25 million Longines Global Champions Tour Super Grand Prix in front of a sell-out crowd at the GC Prague Playoffs.
Daniel Deusser is the only rider to have qualified for every single LGCT Super Grand Prix since 2018, yet has never been on the podium before. On his fourth attempt, he finally turned his luck around to climb to the top of the podium.
The German champion declared the evening of top sport 'unbelievable' explaining: "I am speechless. What Jan Tops created here in the last couple of years is what I call an unique event and to jump here in an arena like that and a crowd like that is unreal."
Take thirteen of the world's top horse and rider combinations, set them against each other and watch the exhilarating display of world-class show jumping unfold. With Prague's O2 arena providing the ultimate venue for the fourth edition of the GC Prague Playoffs, a full house resulted in the electric atmosphere with tension that could be cut with a knife.
Showing her pure class Katrin Eckermann (GER) secured silver with 9-year-old Cala Mandina (Capistrano 2 x Valentino 240) as the only other double clear, and Olympic champion Mclain Ward (USA) rounded off the podium onboard HH Azur (Thunder v. Zuuthoeve x Sir Lui v. Zuuthoeve) after an excruciating single-time fault in round one.
An emotional Mclain Ward commented on his equine partner and the expectation he had for the standard of sport at the GC Prague Playoffs: "Out of respect for the level that was going to be at this competition I chose to bring the best horses I have, and HH Azur is really something now later in her career – I am really blessed that she is still competing at this level and she is a spectacular partner for me."
He added on his impression of the event: "The environment is spectacular, the crowd is spectacular, I noticed them on the podium. The horses feel it, the riders feel them and it is just spectacular sport."
Founder and President of Longines Global Champions Tour Jan Tops smiled: "I'm very proud of what has happened in the last few years, especially the formula in the Super Grand Prix, that really works. You see that this is an amazing, popular class. The highest level of show jumping you can see at night, is a full house. Our social media and TV is at full speed around the world and it's for me an honour to work with a comity like Jan Anderlik and all his team around to make this really special effort and what has been delivered the last week. We started the journey together four years ago, it was unheard of. I have been to every show around in the last 35 years, a show like that you don't see. From A to Z it's perfect, and the greatest sport it is. And I'm really proud."
Event director Jan Anderlik added: "We are extremely happy to see such a crowd in this arena. As you can see we were very close to being completely sold out. It's amazing, we had almost 11,000 people in the house tonight. So it is just showing how attractive and popular the sport is and it's all thanks to the Global Champions."