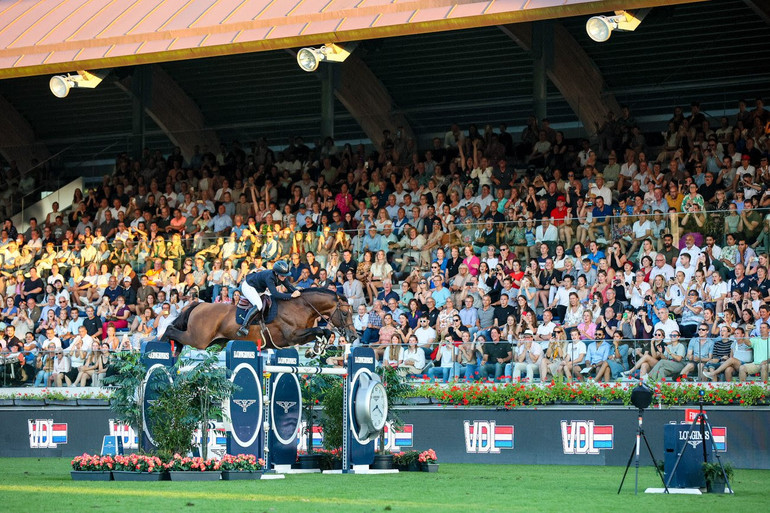 Sanne Thijssen and Con Quidam RB won the Longines Global Champions Tour Grand Prix of Valkenswaard. Photo © LGCT.
Edited press release from Longines Global Champions Tour
---
Sanne Thijssen (NED) and her incredible stallion Con Quidam RB (Quinar Z x Cardino) secured the victory in Saturday's Longines Global Champions Tour Grand Prix of Valkenswaard at Longines Tops International Arena. Emotions ran high as Thijssen, riding on home ground, redeemed her second-place finish in 2021, overwhelming the sold-out crowd with an electrifying performance.
A slightly astonished Thijssen likened her win today to her victory in the Longines Global Champions Tour Grand Prix of Madrid in 2022. She said: "The crowd was unbelievable, as many as were in Madrid, so the feeling was almost the same. My horse truly jumped unbelievable. I said to my groom, 'I really want to win this one today', but the chance that everything works out and you win it is so small… but we did it!"
Collecting her Golden Ticket to the GC Prague Playoff's LGCT Super Grand Prix aboard her horse of a lifetime, Sanne tried to put into words just what her four-legged partner is like: "He is almost impossible to describe, he is from another planet – Frederik [de Backer] said already 'he's an alien!!'. In round one, we had a little miscommunication to the double, he sometimes is so motivated he wants to take over the control which makes it very difficult for me to ride him, and I thought it's not possible to get out of that double… and somehow he did it and that's what I think is so special about him."
Just over half a second slower, Max Kühner (AUT) and Up Too Jacco Blue (Chacco-Blue x Ard VDL Douglas) collected second place in the €300,000 Longines Global Champions Tour Grand Prix of Valkenswaard, while the final spot on the podium was secured by first to go Ben Maher (GBR) and Dallas Vegas Batilly (Cap Kennedy x L'Arc De Triomphe Bois Margot).
Relatively green at five-star Grand Prix level, Ben Maher's mount Dallas Vegas Batilly proved she has what it takes to face up to the best in the world. Ben commented: "She's incredible, she's only ten so she is still learning a little bit at this level. We didn't have a great day yesterday which meant we were first to go today, but I used the big stride she has… and Sanne's little horse was quicker in the end."

An imposing track built by Ulliano Vezzani promised top tier sport, with the best in the world competing for podium honors. Second placed Max Kühner commented on what the starting list of 40 riders faced in Valkenswaard: "When I walked the course I saw it was one of the more difficult courses – in the end we had 10 clears, but we had some good competitors. I think it was a very good class, a very good competition, and a very good jump-off."

After the 13th stage of the 2023-season and with just two events left, Harrie Smolders jumped into the lead of the LGCT overall ranking with his 252 points while fellow Dutchman Maikel van der Vleuten follows closely behind in second with 238 points. Simon Delestre (FRA) and Christian Kukuk (GER) remain in third and fourth on 217 and 210 respectively, as the tour heads to Rome.