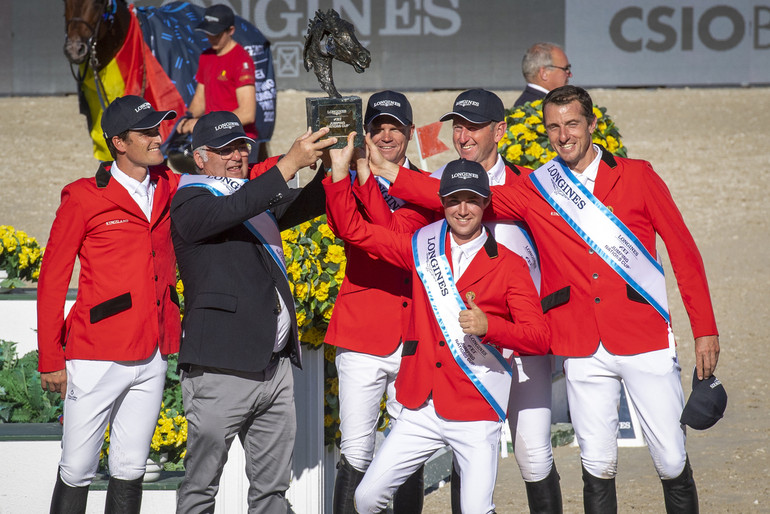 Team Belgium won the Longines FEI Jumping Nations Cup™ 2022 Final at Real Club de Polo in Barcelona, Spain. Photo © FEI/Richard Juilliart.
Press release from FEI written by Louise Parkes
---
The Longines FEI Jumping Nations Cup™ 2023 series gets underway next Sunday, 22 January, in Abu Dhabi in the United Arab Emirates where teams from the Middle East region will be vying for one of two qualifying places up for grabs for the annual Longines Final in Barcelona, Spain.
Again this year the Final offers the added bonus of an Olympic starting spot for the highest-placed nation not already qualified for Paris 2024. Victory in this treasured series is always very sweet, and the Olympic incentive adds an extra edge of excitement to the 10-leg tournament that embraces three separate leagues around the globe.
Single qualifier
The UAE venue will host the single qualifier for countries in the Middle East, while San Miguel de Allende in Mexico will stage the first of three qualifiers in the North America, Central America and Caribbean region in April. That league will then move on to San Juan Capistrano in California, USA in mid-May before finishing up with its third and final leg in Vancouver, Canada in early June.
Meanwhile the mid-summer six-leg Europe Division 1 series, which will run over a ten-week period, will get underway at St Gallen in Switzerland in June followed swiftly by rounds in Sopot, Poland and Rotterdam in The Netherlands. Falsterbo in Sweden and Hickstead in Great Britain will take centre stage in July before this series of qualifiers winds up in Dublin, Ireland in August.
Last year it was the Irish who won the opening leg of the Longines FEI Jumping Nations Cup™ series, also staged in Abu Dhabi, but it was the teams from UAE and Saudi Arabia who qualified from that fixture for the 2022 Final. Team France arrived in Barcelona as overall leaders in Europe Division 1 after a great run of form, but it was Team Belgium who had the biggest smiles on their faces on the last day when not only clinching the Longines FEI Jumping Nations Cup™ 2022 series title but also the coveted Olympic qualifying spot they really wanted.
Third victory
It was their third victory since the Final was first established at the Real Club de Polo in Barcelona, Spain back in 2013. They also came out on top in 2015, and then did it again three years later, but last season's success was particularly pleasing, sealed by classic clear rounds that left them as the only side on a zero scoreline on the last day and therefore clear champions. Things hadn't gone quite as well as they had hoped in the Team competition at the ECCO FEI Jumping World Championships 2022 a few weeks earlier, but this time around it all came together.
And playing his part in that success was 24-year-old Gilles Thomas who, like so many other young riders before him, blossomed throughout that Nations Cup season. On his debut at this level of the sport he produced a foot-perfect last-day run with the lovely mare Calleryama, highlighting the developmental value of Nations Cup Jumping which, this year, celebrates its 114th anniversary. Belgian Chef d'Equipe, Peter Weinberg, was rightly proud when joining Thomas and his team-mates Olivier Philippaerts, Jérôme Guery, Koen Vereecke and Gregory Wathelet in the post-competition celebrations.
National pride, passion, camaraderie and cutting-edge competition are key to the ethos of the Longines FEI Jumping Nations Cup™ series, along with a powerful sense of team spirit and respect for long-standing tradition.
Contesting
Contesting the Middle East qualifier next weekend will be teams from Jordan, Saudi Arabia, Syria and the UAE along with visiting sides from other regions who will not be in contention for a qualifying spot at this leg. There will be two spots at the Final up for grabs at the North America, Central America and Caribbean qualifiers while two countries from the Asia/Australasia region, two countries from South America and one African nation can qualify through the Longines Rankings. There is also a single spot on offer through the Nations Cup rankings for Eurasian National Federations.
Meanwhile Belgium, France, Great Britain, Germany, Ireland, The Netherlands and Switzerland will be joined by Italy - winners at the European Equestrian Federation Final for the second consecutive year last season - in the Europe Division 1 series in which the top seven of the eight competing nations will qualify for the 2023 Final which will take place from 28 September to 1 October.
Check out all the details of the Longines FEI Jumping Nations Cup™ 2023 series here.