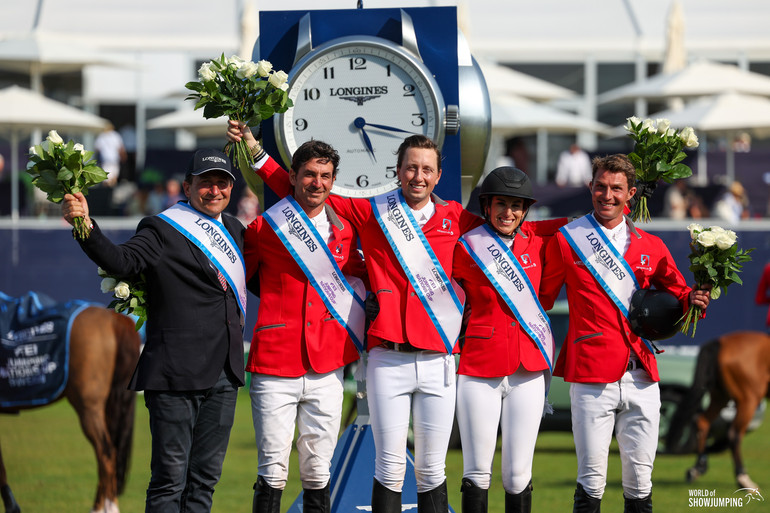 Team Switzerland with Chef d'Equipe Daniel Etter, Steve Guerdat, Martin Fuchs, Janika Sprunger and Elian Baumann. Photo © Jenny Abrahamsson for World of Showjumping.
Press release from FEI written by Louise Parkes
---
The Longines FEI Jumping Nations Cup™ 2023 season is proving a happy hunting ground for Team Switzerland who today posted their second win of the Europe Division 1 series at Falsterbo in Sweden.
On home ground at St. Gallen last month they repeated the success they also enjoyed at their own event a year earlier, with the result clinched by anchorman Martin Fuchs in a two-way jump-off against Brazil's Yuri Mansur.
And today Fuchs was the hero once more. Last to go in the second round, only a clear from his horse Conner Jei (Connor x Cosimo) would prevent another jump-off, this time against Great Britain and Team USA. And again the man who claimed the individual European title in 2019 and the Longines FEI Jumping World Cup™ title in 2022 held his nerve to do it. It was an extra birthday gift for Fuchs who just turned 31 yesterday.
Comfortably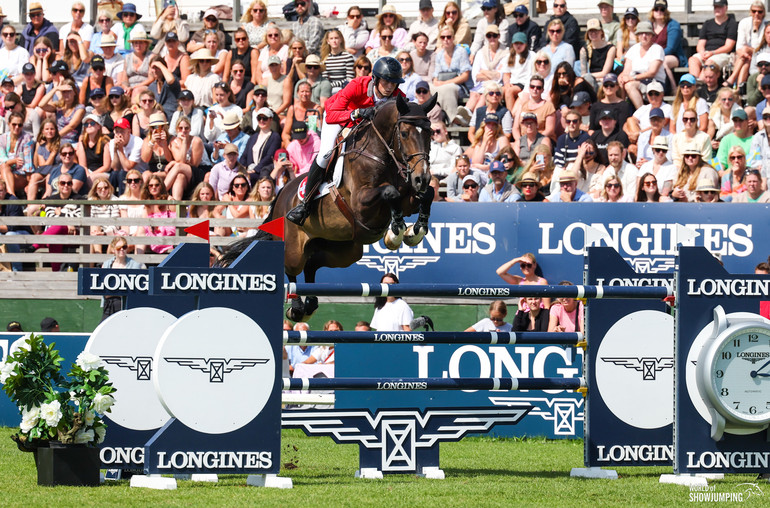 Martin Fuchs and Conner Jei delivered a double clear for the winning team. Photo © Jenny Abrahamsson for World of Showjumping.
Germany's Frank Rothenberger built a 12-fence track that jumped very comfortably in the early stages, but with plenty of height and width and including a triple combination that stretched many over the oxer on the way out.
The wavy planks at fence four and the double of oxer to vertical three fences from home also claimed plenty of victims, but 11 horse-and-rider combinations jumped clear in round one, and 16 left all the timber intact at their second attempt while a total of six posted double-clears. At the end of the day when Fuchs and team-mate Steve Guerdat with Dynamix de Belheme (Snaike de Blondel x Cornet Obolensky) produced two of these that would give the Swiss the edge.
In front
They were already out in front at the halfway stage with clears from Guerdat, second-line rider Elian Baumann and Little Lumpi E (Lordanos x Polydor) and from Fuchs, Janika Sprunger's single error at the planks at four spoiling an otherwise foot-perfect run with her nine-year-old mare Orelie (Emerald x Nabab de Reve).
However, The Netherlands and USA were close behind on four faults apiece while Belgium and Great Britain were just another fence adrift carrying eight each.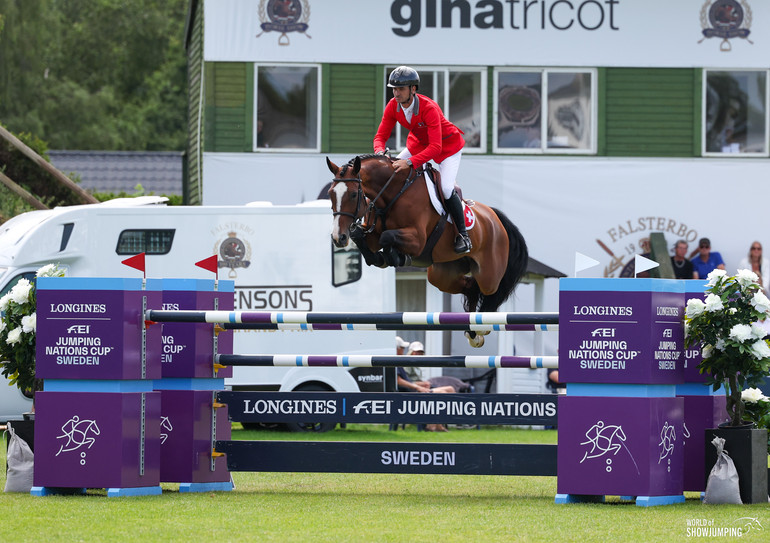 Steve Guerdat and Dynamix de Belheme gave the Swiss team the best possible start with two clear rounds. Photo © Jenny Abrahamsson for World of Showjumping.
The Dutch fell away with the addition of eight second time out while the Belgians also drifted when forced to add the four picked up by Nicola Philippaerts and H&M Luna van't Ruytershof Z (Levisto Z x For Pleasure). And it was a disappointing day for the Swedes who finished well down the line in seventh place on a final tally of 16 faults, just ahead of the French who finished last with 18 on the board despite a double-clear from Kevin Staut and Dialou Blue PS (Diarado's Boy x Chacco-Blue).
Put the pressure on
It was fantastic second-round performances from the British and Americans that really put the pressure on the Swiss. Robert Ridland's US side was boosted by a brilliant double-clear from pathfinder 24-year-old Natalie Dean, a multiple medallist in North American Youth Championships who showed she is absolutely ready to step up with her 10-year-old mare Acota M (Toulon x Quattro 7).
Alise Oken and Gelvera (Quality Time TN x Numero Uno) collected just four faults in the second round while Alessandra Volpi and Berlinda (Berlin x Gento), who faulted twice at their first attempt, went one better with only a single mistake in round two. So when Karl Cook and Kalinka van't Zorgvliet (Thunder vd Zuuthoeve x Flipper d'Elle) stayed clear at their second attempt then only one of the four-fault results had to be added for a final total of eight.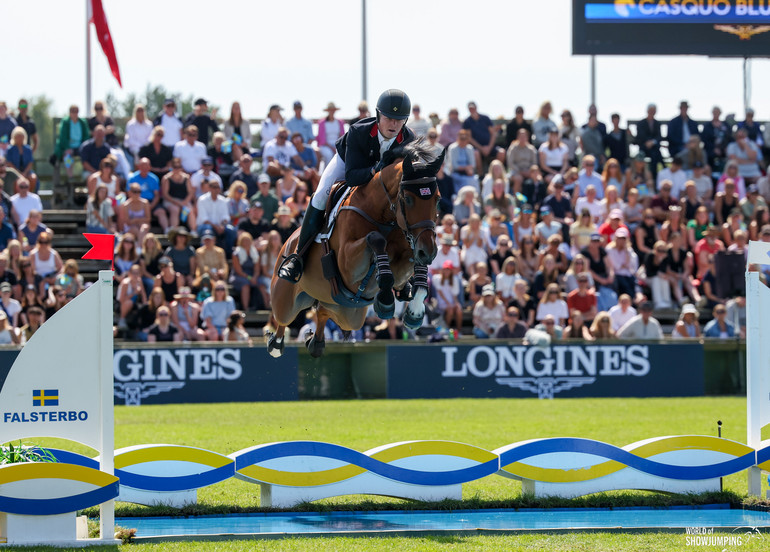 In the second round, all four British pairs jumped clear. Here Harry Charles and Casquo Blue, double clear for the Brits. Photo © Jenny Abrahamsson for World of Showjumping.
Meanwhile the exciting British side were very impressive when all four jumped clear in round two. They were already on eight after Samuel Hutton on Oak Grove's Laith (London x Quaprice) and Sienna Charles on Stardust (Chacco-Blue x Con Air 7) collected four faults each first time out while Robert Whitaker on Vermento (Argento x Skippy 12) had two down and Sienna's older brother Harry Charles on Casquo Blue (Chacco-Blue x Carthago Z) was clear. Harry was only jumping for ranking points second time out because his team-mates had done such a good job.
In the balance
So by the time Fuchs returned to the ring as last rider to go, today's result was hanging in the balance.
Guerdat's second clear got them off to the perfect restart but a mistake from Baumann and Little Lumpi E, and then another from Sprunger who made it all the way to the very last fence before a pole fell, meant that unless Fuchs could go clear they would also be moving onto an eight-fault scoreline and would face a three-way battle for the win.
But the Prince of Pressure did it again, bringing the feisty Conner Jei home with an enormous leap at the last to clinch it.
"It was a lot of pressure to go into the arena as last rider but I was confident that if I had one down Steve would go in the jump-off and be fast. But I still really wanted to ride clear! Conner was great today. I always need to control his temperament as he is very hot, but today it was good", Fuchs explained.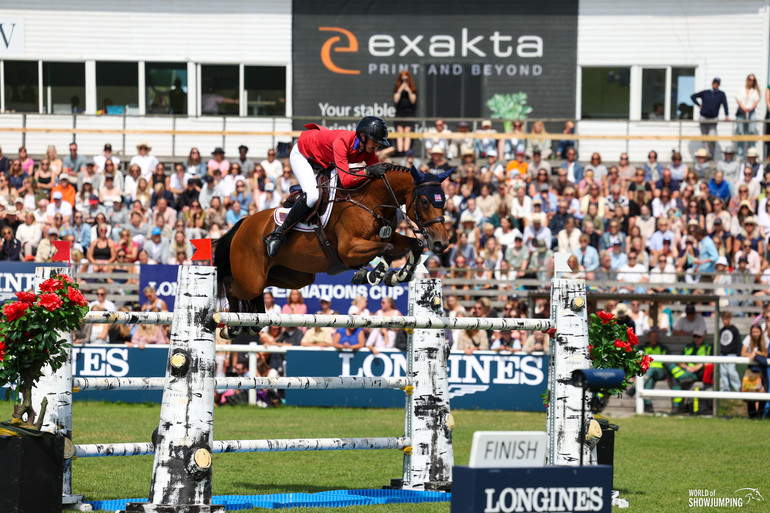 Robert Ridland's US side was boosted by a brilliant double-clear from pathfinder 24-year-old Natalie Dean and Acota M. Photo © Jenny Abrahamsson for World of Showjumping.
Guerdat too was delighted with his horse's performance.
"My mare is really amazing. When I ride her I try to be as as concentrated as I can so she can just deliver. I am really happy how she developed lately and I have really big hopes for the future with her. This is our first NC win together today but I am sure that if I keep riding well we will have many more," he said.
And for Sprunger, today's result was really special. She was filled with emotion at the prizegiving ceremony. "It has been five years since I was last time in a five-star Nations Cup and I am so happy they took me with them today with my young mare. It did not work out for a clear this time but I hope to be back soon!", she said this evening.
In the final analysis the British got the edge for runner-up spot when combined times left them almost four seconds ahead of the third-placed Americans on that eight-fault scoreline.
Praise
The Longines FEI Jumping Nations Cup™ 2023 season is proving a happy hunting ground for Team Switzerland. Photo © Jenny Abrahamsson for World of Showjumping.
Daniel Etter stepped in as Swiss Chef d'Equipe today and was full of praise for his whole team. "They did a great job! Janika is back in the team with a young horse, unfortunately an unlucky fault on the last obstacle (in round two) but she had two great rounds. Elian has two great rounds as well with a clear and one down. And the double clears of Steve and Martin speak for themselves. They were brilliant today again!" Etter said.
For the Swiss, this Longines FEI Jumping Nations Cup™ season is extra critical because when it comes to the series Final in Barcelona (ESP) at the end of September they may still be chasing the Olympic qualifying spot on offer for Paris 2024 if they haven't earned one of the slots up for grabs at the FEI European Championships in Milan (ITA) four weeks earlier.
Looking ahead to the Championships in Milan, Etter said today: "We still want to keep some secrets for the European team but most likely Steve and Martin will be on the team and we will see for the last three riders".
The Europe Division 1 series now moves on to the penultimate leg at Hickstead (GBR) in two weeks time where the French, Irish, British and Italians will all be hoping to move themselves out of the relegation danger-zone at the bottom of the leaderboard which is now led by the Swiss ahead of Germany in second and Belgium and The Netherlands in joint-third.