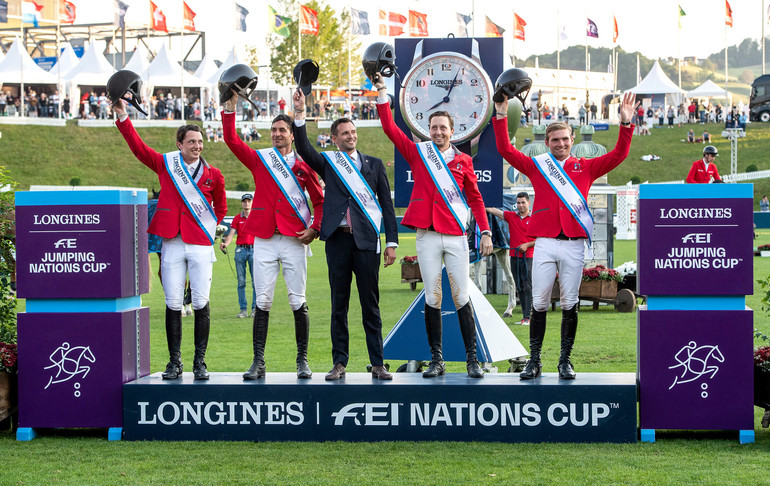 Just like in 2022, Switzerland stole the show in St. Gallen when topping the opening leg of the Longines FEI Jumping Nations Cup™ 2023 Europe Division 1 series at their home venue. Photo © FEI/Martin Dokoupil.
Edited press release from FEI written by Louise Parkes
---
They waited 22 years to post a long-awaited win on home ground in St. Gallen last year, and today Team Switzerland stole the show once again when topping the opening leg of the Longines FEI Jumping Nations Cup™ 2023 Europe Division 1 series at their home venue.
Their back-to-back victory was no walk-in-the-park however, with the result only decided in a thrilling jump-off against the clock in which home hero Martin Fuchs sealed it with a clear round from Leone Jei (Baltic VDL x Corland), while Brazil's Yuri Mansur and Miss Blue-Saint Blue Farm QH (Chacco-Blue x VDL Zirocco Blue) were quicker but left the very last fence on the floor.
The Brazilians were truly impressive, firmly in the lead at the halfway stage on a zero score and without even having to call on their anchor partnership of Pedro Veniss and Nimrod de Muze Z (Nabab de Reve x Tinka's Boy). But in the end it was Fuchs and team-mates Edouard Schmitz, Bryan Balsiger and Steve Guerdat who stood at the top of the podium, both Balsiger and Guerdat bolstering Swiss chances with superb double-clear performances.
Chink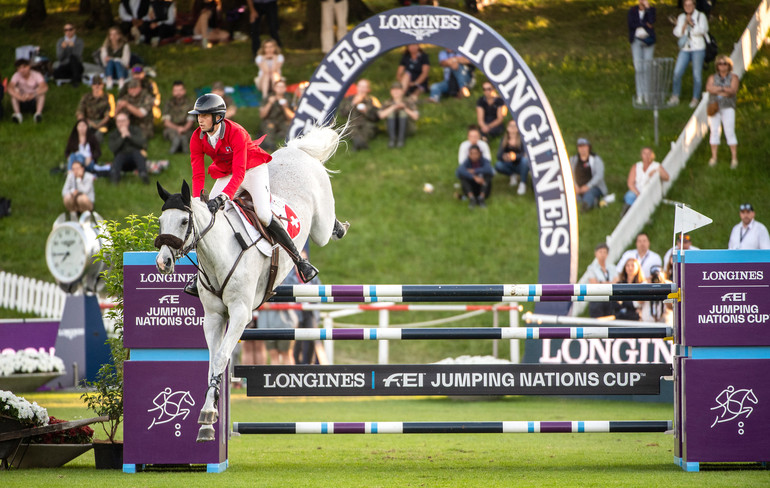 Martin Fuchs and Leone Jei delivered a clear in the jump-off against Brazil, and secured the win for the host nation. Photo © FEI/Martin Dokoupil.
The first chink in the Brazilian armour was a brick out of the wall at fence two in an otherwise foot-perfect second run from Mesquita Musa and Alea Marathon (Mylord Carthago HN x Allegreto). Pessoa produced a second spectacular clear with Major Tom (Vagabond de La Pomme x Heartbreaker) and Veniss was faultless on his first tour of the track but when Mansur's mare kicked out the top plank at fence five at her second attempt then they also moved on to a four-fault tally forcing a third-round head-to-head.
And that was also a thriller, Fuchs throwing down a superb target time of 42.14 seconds with a clear that had the home crowd gasping all the way. But Mansur was well up on time coming to the last and broke the beam in 41.84 seconds. Fuchs didn't see the final fence fall for the Brazilian and initially thought he'd been beaten…. "I couldn't even watch the last fence because I was looking at the time on the clock hoping Yuri would be slower. And then the clock stopped and he was faster and I was 'whaaaat'!" Martin Fuchs said this evening.
As it happened he had nothing to worry about. "I have to say congrats to team Brazil and Yuri Mansur for really making it so exciting for everyone today!", he added.
A great day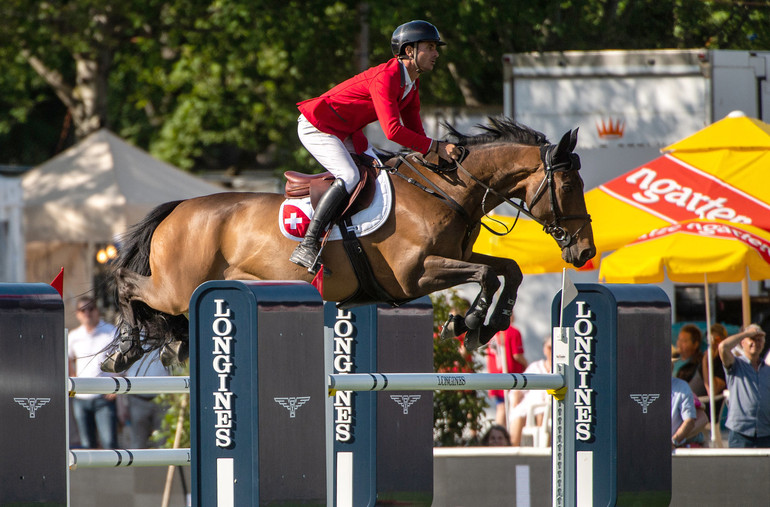 Double clear for Switzerland: Steve Guerdat and Venard de Cerisy. Photo © FEI/Martin Dokoupil.
"What a great day!", 30-year-old multiple champion Fuchs said. "It was a very exciting class, my team-mates were fantastic and my horse was great. I had a rail in the first round and was obviously very disappointed with that because he jumped fantastic and I really thought we could go for the clear. But in the next round he really gave everything, and that's also why we decided I would be the one to jump off, because my horse felt great today".
When Swiss pathfinder Schmitz had the first element of the triple combination at fence six down on his second tour of the track there was nothing sure about the destination of today's St. Gallen Nations Cup title.
"Now I knew we had to deliver clear rounds because the Brazilian team looked very, very strong in the first round. We knew we had to put pressure on them and that's how it turned out. It worked out really great, and it's always very sweet to win in front of the home crowd", Fuchs added.
Encouraging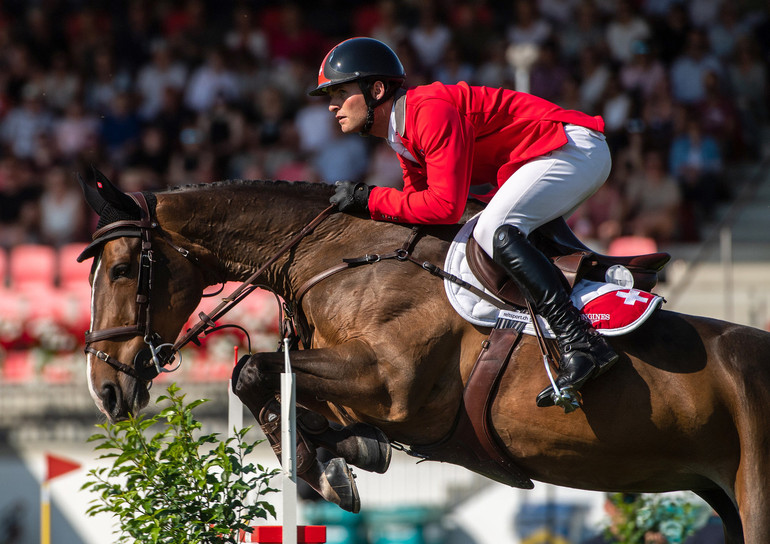 Bryan Balsiger and Dubai du Bois Pinchet, also double clear for Switzerland. Photo © FEI/Martin Dokoupil.
Asked if today's result is encouraging ahead of the challenge of achieving qualification for the Paris 2024 Olympic Games which, until now, has evaded Team Switzerland, Fuchs quickly replied, "we don't need any encouragement! We are all already highly motivated to get this Olympic qualification and a win like this gives you confidence, gives you a boost. If you can win in front of the home crowd where the pressure is high, then you know you can deliver also at a Championship, and that's an important point we can take away from today", he said.
Olympic places are on offer at the forthcoming FEI Jumping European Championship and at the Longines FEI Jumping Nations Cup™ Final 2023 which will take place in Barcelona (ESP) at the end of September. But before all that there will be another five exciting rounds to decide the line-up for the Longines Final to which the top seven of the ten nations competing in Europe Division 1 will make the cut.
Sopot in Poland is the next port of call in two weeks time for competitors in this exciting top-level series which also stops off at Rotterdam (NED) later in June before moving to Falsterbo (SWE) and Hickstead (GBR) in July and finally visits Dublin (IRL) in August.