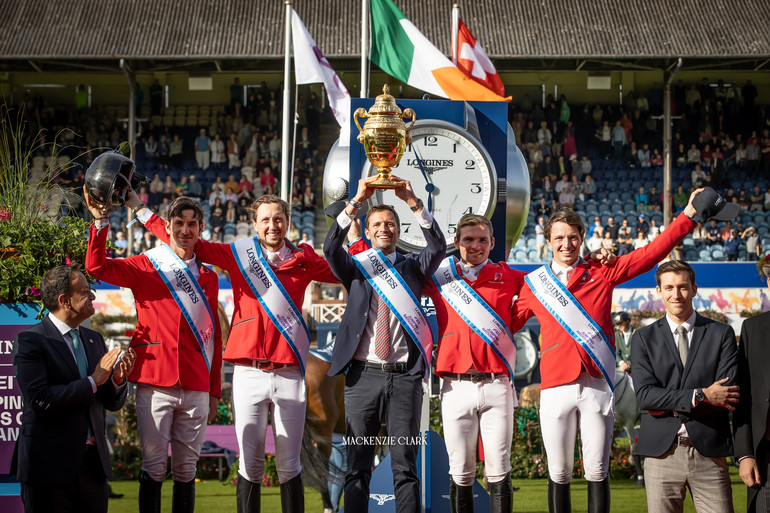 The winning Swiss team in Dublin: Steve Guerdat, Martin Fuchs, Chef d'Equipe Michel Sorg, Bryan Balsiger and Edouard Schmitz. Photo © Mackenzie Clark.
Edited press release from FEI written by Louise Parkes
---
It has taken 40 years to make it happen, but on Friday Team Switzerland held the Aga Khan Cup aloft when winning the sixth and last leg of the Longines FEI Jumping Nations Cup™ 2023 Europe Division 1 series in Dublin, Ireland.
And for Swiss team member Martin Fuchs, this victory was all the more special because it was filled with family connections to the past.
"It was a fantastic day and very emotional. I was thinking a lot about my father (Thomas Fuchs) and godfather Willi Melliger who were both on the winning team 40 years ago. It was a dream to win the Nations Cup here today. I remember my dad talking about this win and I am so happy I can share this with him today and have the same emotions he had 40 years ago!" Martin Fuchs said.
That victorious team in 1983 also included Walter Gabathuler and Heidi Robbiani who bridged a 53-year gap since Switzerland's previous win in 1930. It seems the wait makes victory all the sweeter.
On a high-scoring afternoon Swiss supremacy was emphatic, their zero scoreline in stark contrast to the remainder of the field. Team Great Britain, winners on their home turf at Hickstead two weeks ago, racked up 57 faults to finish last, behind Spain on 28, The Netherlands on 24, Belgium on 21 and France on 20. Third place went to Mexico - always welcome visitors at the Irish venue - who completed with 16 faults on the board, while the hosts finished second on a total of 12.
Without penalty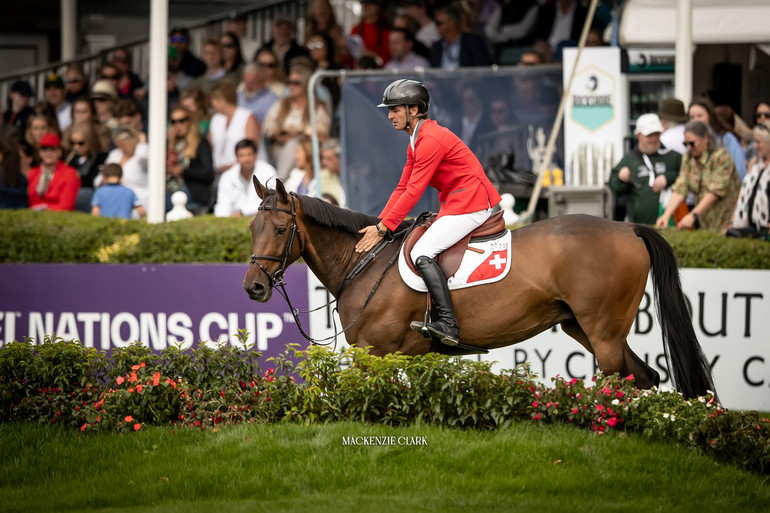 Double clear for Switzerland: Steve Guerdat and Venard de Cerisy. Photo © Mackenzie Clark.
The Swiss already had the bit between their teeth when they were the only ones without penalty at the halfway stage. Pathfinders Steve Guerdat and Venard de Cerisy (Open Up Semilly x Djalisco du Guet) led with a foot-perfect run over Alan Wade's course, and although Bryan Balsiger's Chelsea Z (Chellano Alpha Z x Cicero Z Van Paemel) clipped the middle element of the triple combination at fence 10 first time out, both Fuchs with Leone Jei (Baltic VDL x Corland) and last-line partnership Edouard Schmitz and Gamin van't `Naastveldhof (Chacco Chacco x Toulon) kept a clean sheet.
As round two began, the Irish, French and British were all on level pegging with eight faults apiece in second place, while Belgium and Spain were on 12, Mexico on 16 and the Dutch were lying last with 20 on the board. The French added 12 to their scoreline however and the British effort collapsed when their pathfinder Sam Hutton was eliminated for a fall from Oak Grove's Laith (London x Quaprice Bois Margot), Sienna Charles matched her first-round tally of 12 with Stardust (Chacco-Blue x Con Air 7) and Tim Gredley picked up eight with Medoc de Toxandria (Der Senaat 111 x Kelvin de Sainte Hermelle) before Sienna's brother, Harry Charles, ran into all sorts of problems with Romeo 88 (Contact vd Heffinck x Orlando) for an extremely uncharacteristic 29 faults.
In contrast however, Team Mexico produced three brilliant clear rounds to hold their ground. They have a special place in Irish hearts after their thrilling victory at the Dublin venue in 2018 and the crowd were right behind Nicolas Pizarro and Pia Contra (Conthargos x Chacco-Blue), Fernando Martinez Sommer and Cor Bakker (Colandro x Quattro), Federico Fernandez and Romeo (Lando x Cheers Cassini) as well as Jose Antonio Chedraui Eguia and H-Lucky Retto (Bernini x Germus R). Their sixteen faults proved plenty good enough for third place at the end of the day.
Favourites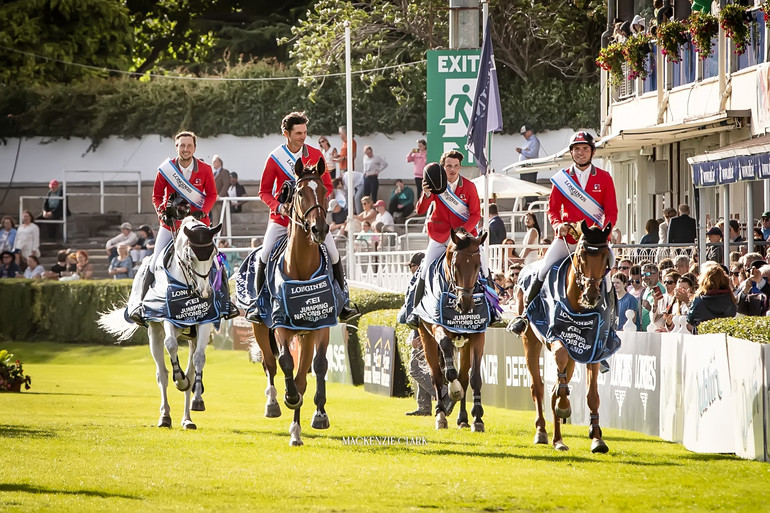 "We said before we came here that we really wanted to beat the Irish and we made it work. They are always very strong here and we had to be stronger to win. We are all happy it worked out today!" Steve Guerdat said after the Swiss win in Dublin. Photo © Mackenzie Clark.
The Irish had been favourites to repeat their success of 2022, but first-round mistakes at the open water for both Michael Duffy on Cinca (Casall x Carthago) and Mikey Pender on HHS Calais (Cavalier Royal x Obos Quality) and a pole down in the combination for Cian O'Connor on Eve d'Ouilly (Qlassic Bois Margot x Poor Boy) left them carrying those eight faults - a spectacular clear from Shane Sweetnam and James Kann Cruz (Kannan x Cruising) allowing them to drop four from their scoreline. And when the Swiss didn't even need to call on Schmitz in the second round because the win was already in the bag after three more fabulous clears, the Irish, with just four more to add without bringing Sweetnam back into the ring, decided to call it a day because they couldn't be beaten for runner-up spot.
At the halfway stage Swiss Chef d'Equipe, Michel Sorg, was happy but cautious. "We all know what can happen in the second round so we must stay calm and focused!", he said. His team gave him nothing to worry about however.
"Today was a very enjoyable day with a nice course", said Guerdat. "I had lots of fun during both rounds, my horse was jumping really good and he made it feel easy! We said before we came here that we really wanted to beat the Irish and we made it work. They are always very strong here and we had to be stronger to win. We are all happy it worked out today!"
Balsiger said, "I was a little disappointed after the first round and the mistake I had. It was my mistake in the middle of the triple combination but I am so proud of my horse and he improves at every show. I really like the atmosphere here and it is a special show for me as I have family living about one hour from Dublin. They were here today and I am so happy!"
For Michel Sorg, everything about this win was important.
"It was really special to stand on the podium in this amazing arena. It is a dream to win here. Our last win was 40 years ago with Thomas (Fuchs) in the team who is now our national coach!"
The result is the perfect preparation for his next target - the FEI Jumping European Championship 2023 which kick off in Milan (ITA) in just over two weeks' time where Switzerland will be hunting not just European medal glory but a crucial qualifying spot for the Paris 2024 Olympic Games.
"Milano is the biggest goal of this year for us. We want to qualify for Paris and it was important to bring the same four guys here who will be in Milan in a few weeks. It is good for the team spirit", Sorg pointed out.
This was Switzerland's third victory from their four allocated starts in the 2023 Europe Division 1 series, having won the opening leg on home ground at St Gallen in June, at Falsterbo in Sweden in July and again at the last leg in Dublin. They finish at the top of the league table with 370 points ahead of Ireland in second, Great Britain in third, Germany in fourth, Belgium, Netherlands and France in fifth, sixth and seventh places and Italy in eighth place.
Only the top seven of the eight competing nations in this series qualify for the Longines FEI Jumping Nations Cup™ 2023 Final in Barcelona (ESP) from 28 September to 1 October, so Team Italy has missed the cut.