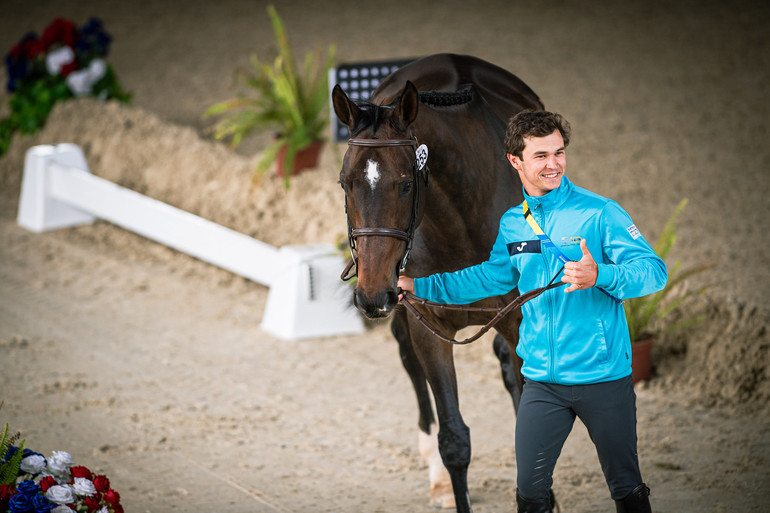 Uruguay's Juan Serra and Quebelle at yesterday's horse inspection for jumping which gets underway at the Pan American Games 2023 in Quilllota, Chile tomorrow morning. Photo © FEI/Shannon Brinkman.
Press release from FEI written by Louise Parkes
---
Jumping takes centre stage at the equestrian events of the Pan American Games 2023 in Quillota, Chile this week with a total of 18 nations, nine with teams and nine with individuals, lining out.
Brazil will be defending both the team and individual titles but, with qualification already confirmed following their great performance at the Longines FEI Jumping Nations Cup™ Final 2023 in Barcelona (ESP) four weeks ago, they won't be chasing one of the three qualifying spots up for grabs for the Paris 2024 Olympic Games.
It will be Argentina, Canada, Chile, Colombia, Ecuador, Mexico, Uruguay and USA who will be battling it out for those precious places when the action gets underway tomorrow morning (31 October) at 11.30 local time.
USA has won the Pan American jumping team title on seven occasions and Brazil has won it six times, while Americans have also racked up six individual victories.
First
Brazil's Marina Azevedo is the first female jumping course designer in the history of the Pan American Games. Yesterday she built the final-phase track for eventing which proved very influential, and this week she has four courses to create for jumping.
Tomorrow's opening speed class will be followed by Wednesday's two-round Nations Cup competition which will decide the team medals.
The top-30 combinations then go through to Friday's first round of the individual final which is limited to three riders from any country, and the top 20 return for the second round in which the individual medals will be decided. Penalties are carried through from the first competition to the last.
The draw for order-of-go took place today and it will be Mexico that will lead the way in the team competition. The drawn order is: 1, Mexico; 2, Canada; 3, Uruguay; 4, Chile; 5, Brazil; 6, USA; 7, Colombia; 8, Argentina; 9, Ecuador.
Inspired
Inspired by America's Linda Allen and British legend Pam Carruthers, Marina Azevedo has made her way into the male-dominated world of jumping course design over a number of years. "A woman can do the job as well as a man, but the opportunities are less", she says, pointing out that children and family life often get in the way.
She was assistant course designer at four previous Pan American Games 'and I've done North American Games, 5* Spruce Meadows, assisted at the Olympic Games but this is a very important job for me", she said today.
As a competition athlete herself she won several silver medals at Children's, Juniors and Young Riders level "and I was fortunate to have Vitor Teixeira as my coach, he now coaches Argentina, and I also I lived in Europe for two years with Nelson Pessoa and his team where I learned a lot about our sport", she explained.
"The biggest challenge at the Pan American Games is building courses with challenges for all riders and horses - fair courses that are interesting for everybody", she said. "We are lucky to have beautiful material to work with at these Games and these jumps give us a history lesson about Chile. It was a great effort from the Committee to create unique jumps for every day".
Wednesday's Nations Cup competition that will decide the team medals is what she is looking forward to most this week. "It's going to be my biggest challenge because there is going to be a big fight between many great riders", she pointed out.
Defending
The defending champions from Brazil are sending out two athletes from their 2019 winning side, Marlon Zanotelli who also took the individual title in Lima (PER) in 2019 will partner Deesse de Coquerie and Pedro Veniss will ride Nimrod de Muze Z. They will be joined by Stephan de Freitas Barcha with Chevaux Primavera Imperio Egipcio and Rodrigo Pessoa with Major Tom, and they are a super-strong foursome.
The very first rider into the ring will be Dominican Republic's individual competitor Andres Julio Soto Peña with Optimus Blue who will be followed by Team Mexico's Eugenio Garza Perez and Contago.