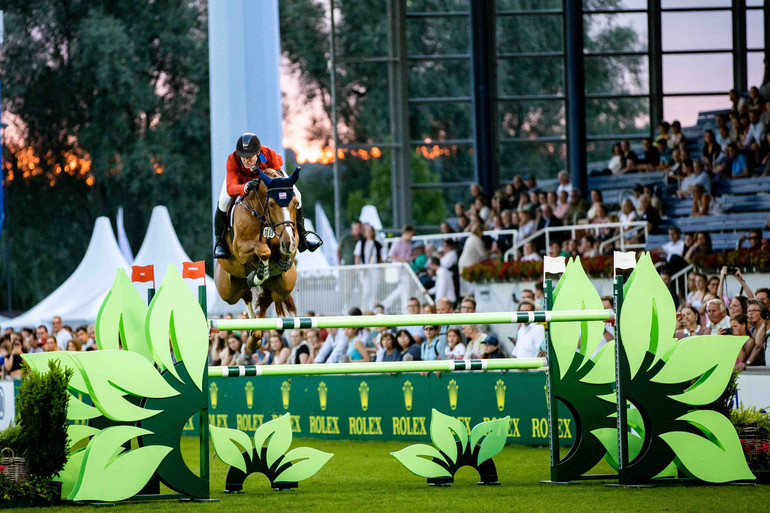 Mclain Ward and Contagious won the Turkish Airlines-Prize of Europe. Photo © Rolex Grand Slam / Ashley Neuhof.
Press release from Rolex Grand Slam of Show Jumping
---
Fifty six horse and rider combinations – each with their sights set on early qualification for Sunday's pinnacle Rolex Grand Prix class – contested the 2022 edition of CHIO Aachen's Turkish Airlines-Prize of Europe, a 1.60m competition over two rounds, which got underway in beautiful North Rhine-Westphalia evening sunshine and culminated under the Hauptstadion's dazzling floodlights.
The Frank Rothenberger-designed course, which consisted of 14 obstacles in the first round and eight in the second, attracted 12 of the world's top 20 ranked riders, including current number one, Switzerland's Martin Fuchs, and Britain's Harry Charles, who leads the U25 rankings.
With just the top 14 riders after round one progressing to round two, a faultless performance and a quick time were crucial. Rolex Testimonee, 2021's winner of the Rolex Grand Prix at CHIO Aachen, and current Rolex Grand Slam Live Contender, Germany's Daniel "Double D" Deusser was on blistering form with his 11-year-old stallion, Bingo Ste Hermelle, with the pair eventually topping the leader board after the first round. Other riders to note, who advanced to round two included the talented 26-year-old American, Spencer Smith, promising U25 French rider, Megane Moissonnier, and on-form Irishman, Conor Swail.
Despite double clears from Conor Swail and fellow countryman Darragh Kenny, Megane Moissonnier, former Major winner, Austria's Max Kühner and Mexico's Nicolas Pizarro, Switzerland's Martin Fuchs and his superstar gelding Conner Jei appeared to be on another level, crossing the line in 41.48 seconds. However, USA's McLain Ward and his 13-year-old gelding Contagious were determined to upset Team Fuchs' celebrations, pipping him to top spot by just seven hundredths of a second, which is where the pair remained after last to go Daniel Deusser put a pole down.
Thrilled with his partner, Ward commented: "He [Contagious] has a lot of quirks and he's a little bit afraid of everything, and quite sharp in the schooling area with the other horses, so we have to manage that a little bit. But when he goes into the ring, he builds himself up, he believes in me, I think, and he throws his heart over first. He's done some remarkable things, not things I thought he'd do in the beginning. He's a smart horse and he believes in what we're doing."
Ahead of Sunday's Rolex Grand Prix, Ward said: "I kind of always say that Aachen is like the girl I can never get! I've been lucky enough to compete in some major Grands Prix all over the world, but I can't get this one. I've been close and I've had the last one down in the jump-off, and it's the one I've dreamed of since I was a small child. I try not to think about it, we try to do our best every day, and I'll try to be in the hunt."
What are you hoping to achieve between now and the end of the year?
I'm hoping for an amazing week here at CHIO Aachen, and then I'll spend the rest of the summer months in Europe before we head back to Florida in the winter.
Which horses have you brought to CHIO Aachen?
I've brought my amazing mare, Super Shuttle, who will jump the Nations' Cup, and my younger horse, Charlotta, who I'm jumping in the Youngsters. Shuttle is definitely my ride – she has a lot of character, a lot of blood. People always make fun that I always add a lot of strides with her out on course, but it's a style that I like and she has all of the heart in the world. People might not think she can do it, but she will try her hardest every single day for me – Charlotta has so much scope, I feel like I could jump a house with her! It's been really fun getting to know her and learn with her.
What has been the proudest moment of your career so far?
Can I say being here?! This is an unbelievable experience for me. It's something I've dreamed of my whole life, so to be able to be here, chosen by the U.S. team, to come and represent my country is the ultimate dream.
Who has inspired you the most throughout your career?
I'd say my family is a large inspiration for me. Neither of my parents ride, but they've always supported me from the very beginning and without them, this wouldn't be possible.
My uncle, Chester Edward, is also here and competes in the driving. He's been a large influence in my equestrian career, as well as my grandmother. She has the love of horses in her blood and that's how I got it. Without my family, I wouldn't be here.
Which senior show jumper do you most look up to?
That's hard. But being here in Germany, I'd have to say Marcus Ehning is a huge inspiration – his style is incredible.
Behind the stable door with: Phoebe Leger, Daniel Bluman's groom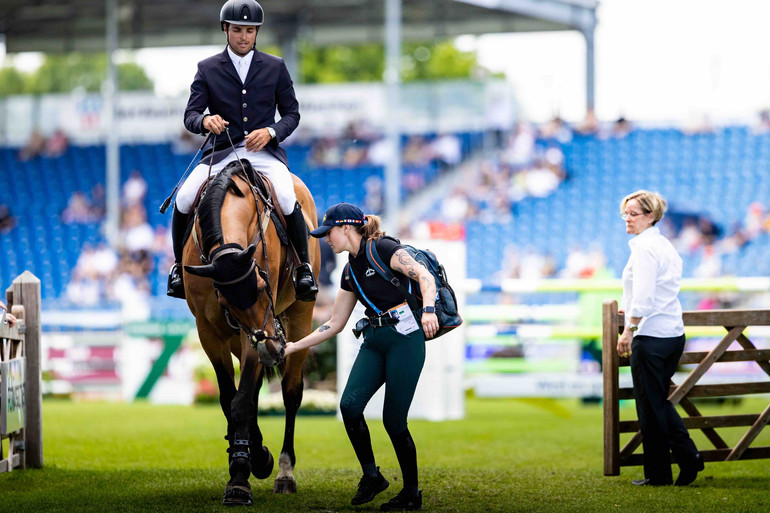 Phoebe Leger. Photo © Rolex Grand Slam / Ashley Neuhof.
How long did it take you to get to CHIO Aachen, and how do you keep yourself entertained on long lorry drives?
It was approximately a two hour drive from the stables near Brussels to CHIO Aachen. I drove myself in our small truck and the horse truck followed behind me. When I don't drive, to keep myself entertained, I watch Instagram videos, TikTok, and things like that. I also watch Rolex Grand Slam's Instagram channel a lot!
Do you feel more pressure when you are at one of the Majors that make up the Rolex Grand Slam of Show Jumping?
Definitely. CHIO Aachen is one of Daniel's [Bluman] top events. We go to all of the Majors and there is a lot of pressure to do well every time we come. Out of the four Majors, I'd have to say CHIO Aachen is my favourite. I love the atmosphere here and the showgrounds are fantastic. It's like a small city with so much to do all in one place. I have lots of friends here and I am friends with almost every groom in my aisle – the camaraderie is really great.
Which horses do you have with you this week?
This week I have Ladriano [Ladriano Z], Gemma [Gemma W] and Cachemire De Braize. Ladriano is 14-years-old and has been doing this a long time. Hopefully this week we have really good results with him in the Grand Prix. Gemma is 11-years-old and has just been coming up into the big classes since last year and is very promising. Cashmere is our younger one – he is 10-years-old. Like Gemma, Cashmere is just coming up into the big classes and he is a great anchor horse for us at the big shows.
How have you been preparing them for CHIO Aachen?
At home, I have spent the past week clipping all of the horses, bathing them, making sure all of the tack is ready and ensuring all of the horses are in shape. While Daniel was away at the other shows, I helped ride them and keep them fit. In short, there's a lot of preparation that goes into this!
About the Rolex Grand Slam of Show Jumping
The Rolex Grand Slam is considered by the sport to be the ultimate equestrian challenge, primarily due to the sporting prowess required to achieve this feat. It is a quest taken on by the world's top riders, vying to secure the legendary status associated with winning the Rolex Grand Slam of Show Jumping.
The format of the Rolex Grand Slam of Show Jumping is simple: anyone who wins three Majors in a row receives the Rolex Grand Slam trophy and a €1 million bonus on top of the class's prize-money. If that same rider then continues their success by winning a fourth Major in succession, they will be rewarded with an additional €1million bonus. If two shows are won in succession, the bonus is €500,000 or if an athlete wins only 2 majors in a period of four successive shows, the bonus is €250,000.