Press release from Rolex Grand Slam of Show Jumping
---
What is your earliest equestrian memory?
My parents owned a riding holiday business in Hanover, so I grew up around horses. I started off doing a bit of everything, some eventing, show jumping and dressage. Horses have always been a way of life for me and my family.

How did you get into the breeding side of the sport? Has it always interested you?
I was 14 years old when I started breeding. I had a talented mare called Pistazie who had very good pedigree, but she got injured in the field. So, I decided to start breeding from her. A lot of the horses that I breed now still have her lineage.

As a breeder, what is your main ambition?
I think that with breeding the quality of the horse has to improve and adapt with the sport. But, in my opinion it is equally important to breed a healthy horse and for me these are the main elements of breeding. If you have a horse that has a lot of quality but is not healthy, it is such a shame. But if you have a healthy horse that does not have so much quality, it is fine, as there always people that want to compete at a lower level. Breeding nowadays is so sporty, and we now rarely breed a horse that cannot jump in 1.30-1.45m classes. I always try to find the best combination between the mare and the stallion. Nowadays, there are so many stallions at stud, so it is a hard choice. But it is one of the most important parts of breeding a good horse.

As a breeder, what is the proudest moment of your career so far?
I have bred so many horses that it is hard to pick just one horse. It is always great to breed a proven stallion, but we have also had lot of horses that have been very successful at the international level and that have competed all over the world. My biggest dream would be to breed a championship horse and, to further that dream, to have Gerrit riding it.
What are your plans, dreams and ambitions for 2022?
We've got some shows in Kentucky we'll be doing over the rest of 2022, as well as a little bit of training with the horses at home and preparations for the winter season in Wellington. So we don't have too many big, big things planned for the end of this year. We'll just keep going where we're going and keep practicing and keep training.
What has been the proudest moment of your career so far?
I would say the proudest moment was probably jumping in my first Grand Prix last summer. It was a 2* Grand Prix, so it was good to get involved in the international scene and jump in the FEI categories.
The experience really opened my eyes and helped me start to see that 'this is a possibility for me doing this now, and in the future I'll be jumping even bigger classes'.
You recently received The Gillian Wilson Trophy after being named Junior Equestrian of the Year – how did that make you feel?
It made me feel good, it's a great accomplishment. It's always pleasing to be recognised in a positive manner, but the most important thing is to keep going forward and keep just doing what we're doing so we can keep having positive results moving forward.
CSIO Spruce Meadows 'Masters' highlights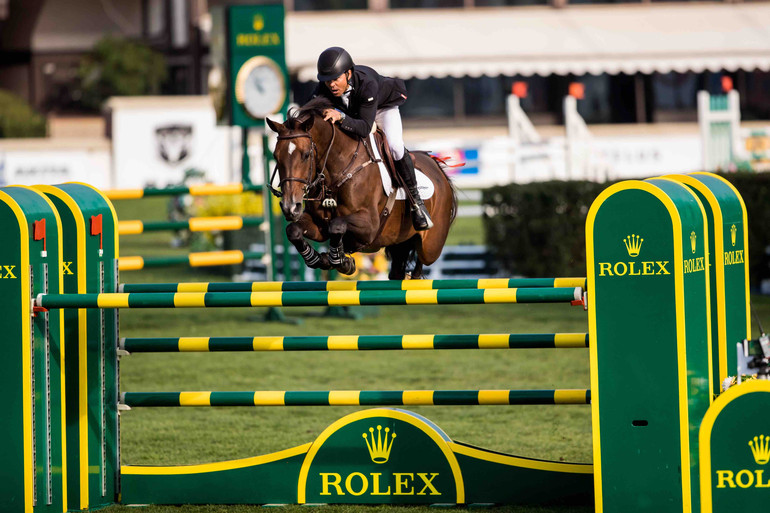 The CSIO Spruce Meadows 'Masters', held from 7-11 September 2022. Photo © Rolex /Ashley Neuhof.
The world's best horse and rider combinations will once again journey to what is often considered North American's premier equestrian venue. Located in the foothills of the Alberta Rocky Mountains, the CSIO Spruce Meadows 'Masters', held from 7-11 September 2022, provides spectators with not only spectacular views but also first-class equestrian competition, shopping, and entertainment. The highlight and main draw for many passionate equestrian fans will be the CP 'International', presented by Rolex, which will be held on Sunday 11 September.
Aside from the world class show jumping, the Spruce Meadows 'Masters' provides spectators with a host of activities to keep the whole family entertained. Through the Tournament the MARKT will provide opportunities for those who love shopping to get hold of everything, from original fine art to locally made products, from its 70 different stalls. In addition, equine inspired demonstrations and live entertainment will also take place daily. Throughout the week members of the public will also be able to visit members of the Lord Strathcona's Horse (Royal Canadians) Mounted Troop, Household Cavalry Mounted Regiment and the King's Troop Royal Horse Artillery, both situated in East and West Meadows.
Thursday will see the start of the 5* jumping classes both the ATCO Cup and the CANA Cup being held in the spectacular International Ring. Both classes provide the first chance for riders to qualify for the CP 'International', presented by Rolex on the Sunday.
About the Rolex Grand Slam of Show Jumping
The Rolex Grand Slam is considered by the sport to be the ultimate equestrian challenge, primarily due to the sporting prowess required to achieve this feat. It is a quest taken on by the world's top riders, vying to secure the legendary status associated with winning the Rolex Grand Slam of Show Jumping.
The format of the Rolex Grand Slam of Show Jumping is simple: anyone who wins three Majors in a row receives the Rolex Grand Slam trophy and a €1 million bonus on top of the class's prize-money. If that same rider then continues their success by winning a fourth Major in succession, they will be rewarded with an additional €1million bonus. If two shows are won in succession, the bonus is €500,000 or if an athlete wins only 2 majors in a period of four successive shows, the bonus is €250,000.
---