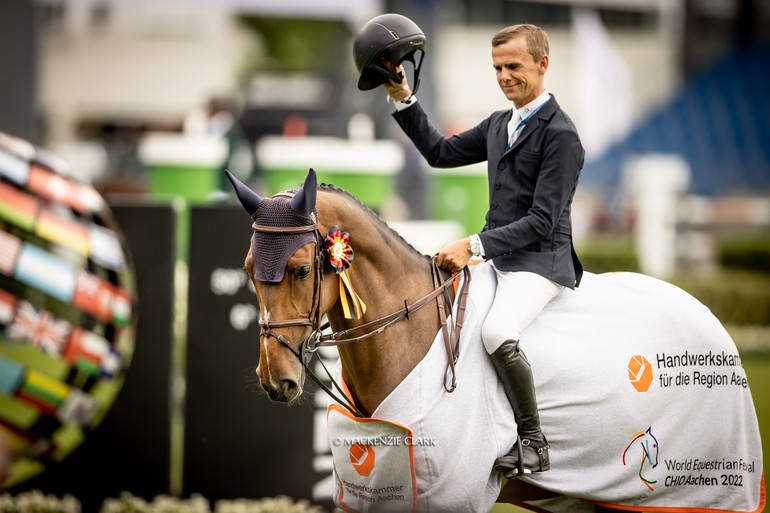 Wilm Vermeir and Linguini de la Pomme won the Prize of Handwerk at CHIO Aachen. Photo © MacKenzie Clark.
Wilm Vermeir (BEL) and the 11-year-old mare Linguini de la Pomme (Marius Claudius x Tinka's Boy) won Wednesday's 1.45m Prize of Handwerk at CHIO Aachen.
Coming in as third to go, Vermeir took an early lead with a time of 62.61 seconds in this Table A class against the clock. None of those who followed could catch the Belgian rider; closest came Yuri Mansur and Away de Semilly (Diamant de Semilly x Watzmann) who with only five to go slotted into the runner-up spot after stopping the clock at 63.04 seconds. To the delight of the German spectators, two home riders followed in third and fourth: Philip Rüping on Miss Chacco PS (Messenger x Chacco-Blue) with a time of 67.30, and Patrick Stühlmeyer on Accoton PS (Pikachu de Muze x Chacco-Blue) in 67.35. As last to go in the ring, Rodrigo Pessoa (BRA) rode a beautiful round on Major Tom (Vagabond de la Pomme x Heartbreaker) to take the fifth place after clocking the time of 71.13.
"It is fantastic to be here in Aachen, I have been coming here since I was four, but this is my first time competing here," the happy winner commented to World of Showjumping.
"I have had Linguini for nine months at my place," Vermeir told about his winning mount. "She is related to one of my top horses Gentiane de la Pomme. Linguini is always really quick and has already won a few ranking classes. Many others were training today, but I could be competitive with her straight away, because these classes are what she is here for – she is a naturally fast horse. I had a very fluent round and could keep going everywhere, but did not do anything risky; it was a perfect round."