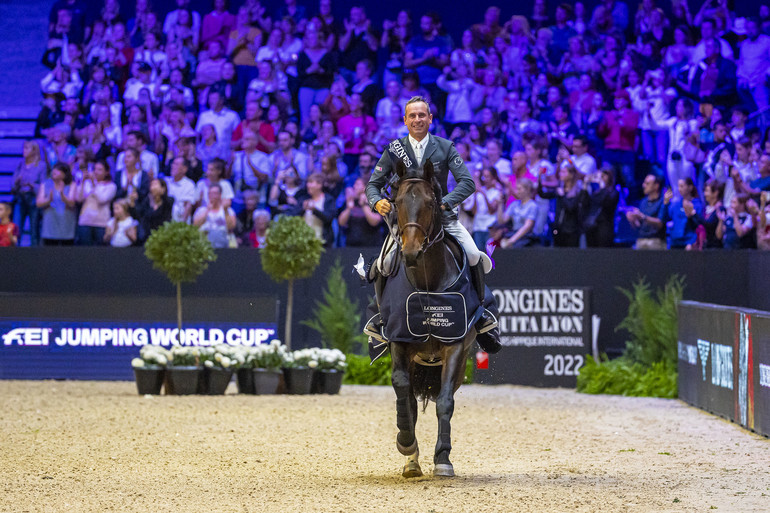 French star Julien Epaillard set the home crowd alight when scorching to victory with the super mare Caracole de La Roque at the Longines FEI Jumping World Cup™ 2022/2023 Western European League qualifier on home ground in Lyon (FRA) today. Photo © FEI/Leanjo de Koster.
Edited press release from FEI written by Louise Parkes
---
He has long had a reputation as a super-fast rider, and today Julien Epaillard set the home crowd alight when scorching to victory with the great mare Caracole de La Roque (Zandor Z x Kannan) at the Longines FEI Jumping World Cup™ 2022/2023 Western European League qualifier on home ground in Lyon (FRA).
The 45-year-old Frenchman was in flying form all week, with three big wins already under his belt including Friday night's Longines Grand Prix in which he steered Caracole to pip Germany's Jana Wargers and Limbridge (Limbus x Cambridge). Today it was Brazil's Marlon Zanotelli and VDL Edgar M (Arezzo VDL x Marlon) who had to settle for runner-up spot while The Netherlands' Jur Vrieling and Long John Silver (Lasino x San Patrignano Corrado) finished third.
The line-up for this third round of the 14-leg Western European qualifying series always suggested a classy competition, with 12 of the top-16 riders in the world rankings in action including the leading three. Newly-crowned double World Champion Henrik von Eckermann from Sweden holds the number one slot and reigning Longines FEI Jumping World Cup™ champion Martin Fuchs from Switzerland is currently lying second ahead of Epaillard in third.
However the Frenchman was the only one of those top three to make the cut into the six-horse second-round decider when the 14-fence first-round track set by French course designer Gregory Bodo took its toll. The two-stride distance between the first two elements of the triple combination at fence ten was the undoing of many, while several others faulted at the vertical - topped by a plank - that followed. And the final line that began with a 1.9m-wide triple bar also proved influential.
Sweden's Wilma Hellström was second into the ring and her beautifully-ridden clear with the 11-year-old mare Cicci BJN (Ci Ci Senjor Ask x Tornesch) denied the degree of difficulty of the course. Another 13 horse-and-athlete combinations gave it their best shot before the host nation's Penelope Leprevost followed suit with the 11-year-old Bingo del Tondou (Vigo d'Arsouilles x Querlybet Hero) and then yet another grey, Jur Vrieling's Long John Silver, gave a jumping exhibition to join the clear-round gang.
Epaillard was next, immediately followed by Denmark's Andreas Schou, but the crowd were dismayed when home hero Simon Delestre was denied a jump-off slot by a single time fault with the electrifying Cayman Jolly Jumper (Hickstead x Quaprice Bois Margot). Brazil's Zanotelli then rounded up the jump-off startlist with a convincing clear from Edgar.
Hellström was first against the clock and left the door wide open with two fences down before Leprevost took her turn. The French star said after her first round that she was delighted to be back in Lyon because, for the first time in 15 years she couldn't compete at the 2021 edition. But she pointed out that "this is the first World Cup Grand Prix for my horse and he's not so fast, so I will try to do a good round but not go crazy!" And living up to that promise she set the first real target with a great clear from Bingo in 38.89 seconds.
Jur Vrieling also made a point of saying that the magnificent Long John Silver, who helped secure team silver for The Netherlands at the ECCO FEI World Championships in Herning, Denmark this summer, is not the quickest horse on the planet either. After his first round today he said the course had been big, "but I love it when it's big - for this horse! Because in the jump-off for sure we won't be the fastest but we will be clear. This horse is so scopey, he's amazing!", he pointed out. And then hearing the crowd going wild as Epaillard secured a second place for France in the jump-off the Dutchman added, "he'll be six seconds faster - but I'll still be happy!"
He was just over three seconds faster as it turned out, because Long John stopped the clock on 37.97 seconds while Epaillard raced home in 34.88 seconds. And when Denmark's Schou hit the third-last and Zanotelli gave it his all to finish clear in 35.61 seconds it was a done deal. The packed stadium of spectators had their most perfect result - a home win.
The jump-off course was delicate and there were some faults, so I tried to go a clear but not go crazy, crazy. That was the plan and I wasn't sure if Andreas and Marlon would catch me - Marlon is always dangerous!
- Julien Epaillard -
Asked about his extraordinary run of form this week he replied, "you can never expect a weekend as good as this one. I will enjoy every moment!"
Looking ahead he said Caracole will have a break after Geneva in December. "This was already the plan since a long time. At the moment if I get qualify for the Final I am not sure I have a horse. Donatello (who also won two classes in Lyon this weekend) is maybe too young and the goal for him will most likely be the European Championships next year. We are already planning for Paris 2024 (Olympic Games) and want to get the horses there".
However he plans to compete at the WEL qualifiers in Madrid (ESP) next month, Mechelen (BEL) in December, Basel (SUI) in January and on home ground again at Bordeaux (FRA) in February 2023.
Marlon Zanotelli was also a happy man today. His second-place finish has moved him into seventh spot on the Western European League leaderboard, just four places behind his wife, Angelica Augustsson Zanotelli who won the second leg of the 2022/2023 qualifying series in Helsinki, Finland just seven short days ago.
"It is really something special that I can do this circuit together with my wife and our family. My parents are joining us also most of the time and this is a really special time in my life," Zanotelli explained.
And he was very proud of Wilma Hellström who finished sixth. "She is a close friend of my wife and she spent last year at our stables and she did a great job today which makes us very happy. I am sure we will see her more in the future."
As course designer Bodo pointed out, today's winning rider is in a league of his own at the moment. "Julien already won the three major classes last week in St Lô. I did try to make him make a mistake this weekend but I did not succeed!", he said with a laugh.
The Longines FEI Jumping World Cup™ 2022/2023 Western European League now moves on to the beautiful Italian city of Verona next weekend.