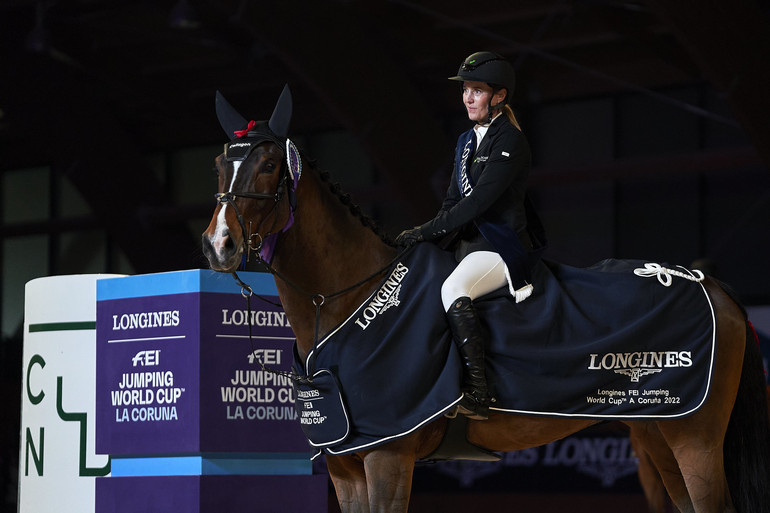 Janne Friederike Meyer-Zimmermann and Messi van't Ruytershof won the Longines FEI Jumping World Cup™ 2022/2023 Western European League in La Coruña, Spain. Photo © FEI/Oxer Sport.
Edited press release from FEI written by Louise Parkes
---
Sunday's seventh leg of the Longines FEI Jumping World Cup™ 2022/2023 Western European League staged in the port city of La Coruña in north-west Spain came down to a thrilling two-way face-off, and it was Germany's Janne Friederike Meyer-Zimmermann who won through with a brilliant performance from Messi van't Ruytershof (Plot Blue x For Pleasure) that pinned Great Britain's Harry Charles and Casquo Blue (Chacco-Blue x Carthago Z) into runner-up spot.
It was a tough day at the office for many of the 40 starters, with five retirements, two eliminations and 14 posting a four-fault result in the opening round. But according to the winner it wasn't Santiago Varela's fences that presented the biggest challenge. The decision to change the first-round time-allowed from 85 seconds to 83 was what kept the number qualified for the jump-off to the minimum.
"The course-building was good but it was a tough course, and because of the time changing you had to hurry a lot and usually that brings more faults. In the end I was lucky there were not so many clears! It was more about the time because you had to take risks, and when you take risks you have more faults", Meyer-Zimmermann pointed out this evening as she celebrated her significant victory.
Easy
Second to go in the opening round, Charles made it look fairly easy when clearing the 14-fence track in 81.03 seconds before the time-allowed was decreased. However another 22 horse-and-rider combinations took their turn before Meyer-Zimmermann and Messi matched that. And they were the only other pair to do it.
Sixteenth into the ring, Austria's Max Kühner looked set to succeed only to collect a single time penalty with Up Too Jacco Blue (Chacco-Blue x Ard VDL Douglas), although this would prove plenty good enough for third place ahead of The Netherlands' Harrie Smolders and Uricas vd Kattevennen (Uriko x San Patrignan Cassini) whose two time faults left them in fourth at the end of the day.
World number one and recently-crowned double world champion, Sweden's Henrik von Eckermann riding Iliana (Cardento x Gentleman), slotted into fifth with the fastest four faults picked up at the bogey plank on top of the vertical at fence seven which also fell for sixth-placed Frenchman Kevin Staut and Cheppetta (Chepetto x Cash).
Great round
Charles set the jump-off target with another great run from his 12-year-old gelding, stopping the clock in 36.87 seconds to throw it right down to his sole rival. But the 41-year-old German lady whose stellar career with the great Cellagon Lambrasco brought her to the London 2012 Olympic Games and to team gold at both the FEI World Equestrian Games™ 2010 in Lexington (USA) and the FEI European Championships in Madrid (ESP) a year later wasn't intimidated.
"I watched Harry, I know he is a very quick rider but I felt that there was nothing to lose. I didn't want to over-speed but I wanted to take my chance. When you are second to go and there are only two riders you have to take the chance!" Meyer-Zimmermann said after her brilliant rollback to the vertical at fence five gave her the advantage before she raced through the timers in 36.52 second to secure the win.
She's had an extraordinary year in 2022, beginning with the birth of her son Friedrich Alexander in January and highlighted by Messi van't Ruytershof's superb double-clear that helped Team Germany to victory on home ground in the Nations Cup of Aachen in June. The 10-year-old gelding (Plot Blue x For Pleasure) is a big horse "but we know each other very well, I have him since he was six years old", she explained this evening. However they are only recently finding their way on the indoor circuit.
Super-shy
"This is his first indoor season because when he was young he was super-shy in the warm-up, he was afraid of other horses so I avoided indoor shows and small warm-ups. When he was a bit older there was Covid, and last year in the winter season I was pregnant so we never really competed indoors and this was just his third indoor."
"He is an amazing horse, he's a very shy boy, not one to go in the front row, he's really sensitive and needs a person he trusts. But the truth is he's a superstar, he has all the scope, he's super-careful and he deserves to win so I'm happy we could make it happen today!" Meyer-Zimmermann said.
Meyer-Zimmermann has only one more show planned for the rest of this year. "Now that I have a baby I will probably slow down a little bit. We will go to Frankfurt but this will be the last show this year as it is close to where my horse owner lives. I will need to speak to Otto (Becker, German team manager) about the rest of the season but will most likely ride in Leipzig", she said. Taking place in January, that will be the 11th round of the 14-leg series that now moves on to London (GBR) in two weeks' time.
Sunday's result has moved her up to fifth place on the Western European League leaderboard behind Frenchman Julien Epaillard who has posted a double of wins this season and who lies fourth behind Charles in third, von Eckermann in second and Epaillard's compatriot Kevin Staut at the head of affairs.
The top three already look well-qualified for the Longines Final in Omaha (USA) next April but there is still a long road for the rest who are vying to make the cut from this series.
It will continue to unfold with London quickly followed by round nine in Mechelen (BEL) immediately after Christmas.