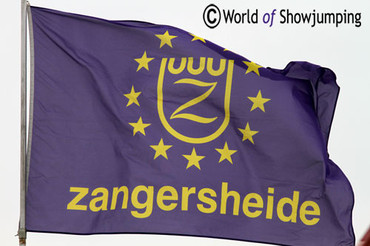 Today the riders and horses who did not qualify for tomorrow's finals battled against each other in the consolation classes for 7-, 6- and 5-year-olds at the FEI World Breeding Jumping Championships in Lanaken. Portugal's Rodrigo Almeida and his highly talented Elud turned out the winners in the consolation class for 7-year-olds, while Michael Pender and Jens Nijs took the victories in the 5- and 6-year-old competitions.
Rodrigo Almeida's mount Elud is a product of the successful formula Clinton x Heartbreaker and really met the high expectations of his pedigree today. Jumping exceptional from start to finish, Elud and Rodrigo Almeida secured the victory in the consolation class for 7-year-old horses in a time of 59.33 seconds. Belgium's talented young rider Gilles Thomas finished as runner-up aboard Jacarta van 't Ravennest (Conterno Grande x Forsyth), while Koen Vereecke ended up third riding Jaro van Donkhoeve (Doree van 't Zorgvliet x Calato).
Ireland's Michael Pender turned out the strongest in the consolation class for 6-year-old horses. Riding the Irish bred Curra Clover Flight (Barnaby Flight x Ramiro B), Pender took the victory in 55.35 seconds. Dutch rider Geert Moerings and his home bred Fasther (Vigo d'Arsouilles x Farmer) turned out the runners-up in 56.94 seconds, while France's Max Thirouin and Aurore de la Rose (Felton du Mont x Narcos II) settled for the third spot.
The Zangersheide-bred Zandro Z (Zandor Z x Carthago Z) and Belgium's Jens Nijs ended up winning the consolation class for 5-year-olds. In a time of 60.99 seconds, even Ireland's Shane Dalton and the Irish bred Castlelawn Captain Junior (Captain Clover x Diamond Lad) could not beat Nijs. Belgium's Thomas Mertens and Ghandi finished third.
---
Text © World of Showjumping by Peter van der Waaij // Picture © Jenny Abrahamsson