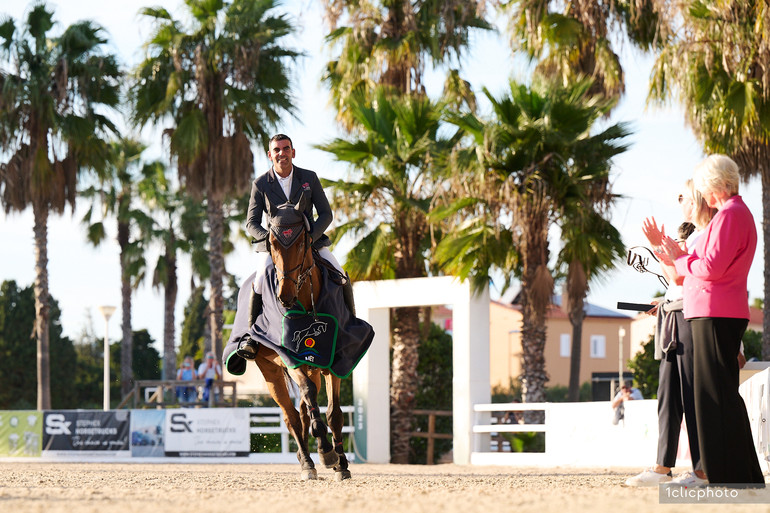 Mariano Martinez Bastida and Jup won the CSI3* Grand Prix presented by Oliva Nova Beach & Golf Resort at Autumn MET II 2023. Photo © Hervé Bonnaud/1clicphoto.com.
Press release from Mediterranean Equestrian Tour
---
The second week of Autumn MET II 2023 concluded with a home win for Spain's Mariano Martinez Bastida and Jup (Carrera VDL x Silverstone, bred by G.L. Hoksbergen) in the CSI3* 1.50m Grand Prix presented by Oliva Nova Beach & Golf Resort.
Only four out of the 58 horse-and-rider-combinations at start cleared the first-round track set by Frank Rothenberger (GER) and joined the deciding jump-off, where Bastida and Jup were the quickest – stopping the clock on 45.08 and taking the win ahead of Donald Whitaker (GBR) and Nikita du Roton (Elvis Ter Putte x Chippendale Z, bred by Martine Rolin) in second in 48.37.
"This Grand Prix was difficult," Martinez Bastida said after his victory. "There were many participants and just a few clear rounds; it was a complicated course."
"I was fourth to go in the jump-off, and I saw that the riders before me had fences down. The rider just before me did not go too fast, so I decided to go for it and it worked out for me," Martinez Bastida detailed. "Jup is a young and very promising horse. He jumped clear in the CSIO5* 1.55m City of Barcelona Trophy back in September, and we have a lot of hope in him."
"In Spain we have a lot of good shows, but it's a luxury to have such good facilities and arenas so close to home," Martinez Bastida said about the venue at Centro Ecuestre Oliva Nova. "It is one of the best in Europe."
Gaj Riossa (SLO) and Hero (Diamant de Semilly x Quidam de Revel, bred by Redfield Farm LLC) placed third with a fence down in 48.47, while two down in 48.61 left Jason Foley (IRL) and Chedington Fixit (Diamant de Semilly x Premium de Laubry, bred by Tops Horse Trading BV/Camaran Stable BV) in fourth. With one time fault from round one, Stephanie Andries (BEL) and New Jursy van de Noordheuvel (Spartacus x Papillon Rouge, bred by Corneel Franken) finished fifth.
Autumn MET II 2023 continues until November 19th, followed by Autumn MET III from November 28 to December 17.