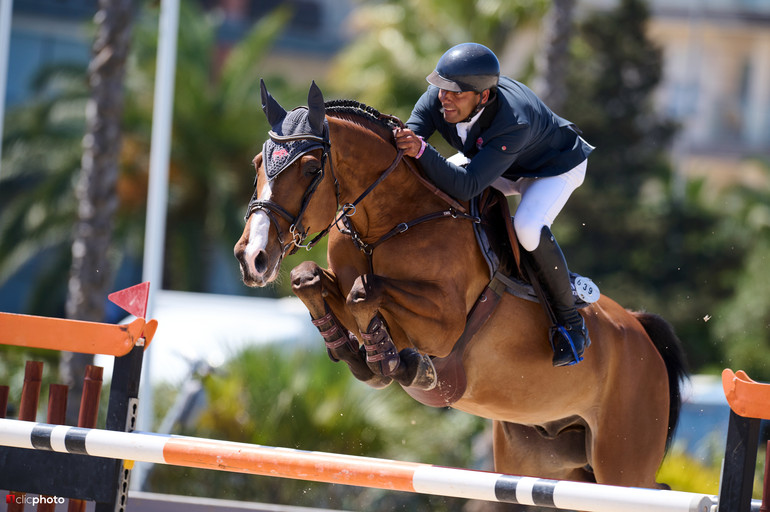 Mariano Martinez Bastida and Belano vd Wijnhoeve Z won the CSI3* 1.50m Grand Prix presented by Oliva Nova Beach & Golf Resort at Spring MET 2022. Photo © Hervé Bonnaud/1clicphoto.com.
Press release from the Mediterranean Equestrian Tour
---
The second week of Spring MET IV 2022 in Oliva Nova, Spain, concluded on Sunday with the CSI3* 1.50m Grand Prix presented by Oliva Nova Beach & Golf Resort and it was a win for the hosts after an exciting jump-off of nine.
The course set by Christian Wiegand (GER) counted 13 obstacles and 16 efforts in the first round, and nine horse-and–rider combinations out of the 34 participants managed to produce a clear round. Joining the deciding jump-off were Rikke Belinda Barker (DEN) on Tabalou PS (Taloubet Z x Balou du Rouet), Filipe Malta Da Costa (POR) on Iwan B (Starpower x Elton), Niall Talbot (IRL) on FTS Elliot (Cicero Z x Lancelot), Victor Laudet (FRA) on Damzelle du Breche (Dalton van het Lindehof x Quidam de Revel), Francisco De Asis Arango Lasaosa (ESP) on Arizona Day (Diamant de Semilly x unknown), Alberto Marquez Galobardes (ESP) on Ucello Massuere (Cassini II x Galoubet A), Lieven Devos (BEL) on Inca's Big Think (Think Big van TL x Lanciano), Sergio Alvarez Moya (ESP) on Alamo (Ukato x Equador) and Mariano Martinez Bastida (ESP) on Belano vd Wijnhoeve Z (Berlin x Darco).
With four Spanish riders in the battle for the win in the jump-off, the hosts were in for a treat. First out on the impressive Tabalou PS, Rikke Belinda Barker set the standard with a time of 42.08 – which in the end left her in 8th place as the pace in the jump-off got quicker and quicker with each pair. As last to go, Mariano Martinez Bastida on Belano vd Wijnhoeve Z risked it all for the win and crossing the finish line in 34.56 seconds he had shaved off an incredible 2.73 seconds on the time to beat – pushing Lieven Devos to the runner-up position. Niall Talbot finished third, Filipe Malta Da Costa fourth and Sergio Alvarez Moya fifth.
"I was the last one in the jump-off, so my plan from the first moment was to try and win the Grand Prix," Mariano Martinez Bastida said after his victory. "Belano is a big horse but very competitive. I have had him for two years, and I know him very well. Right now, I think we are in a very good shape."
Speaking of the venue in Oliva Nova, the happy winner said: "Oliva is a top venue with all the facilities and it's always a pleasure to come here."
The Spring MET 2022 now moves on to its third and last week of competition, starting on April 19th and running until April 24th. In July, the venue will be hosting the FEI Jumping European Championship 2022 for Young Riders, Juniors and Children, before the Autumn MET 2022 returns at the end of September. For more info, visit metoliva.com.