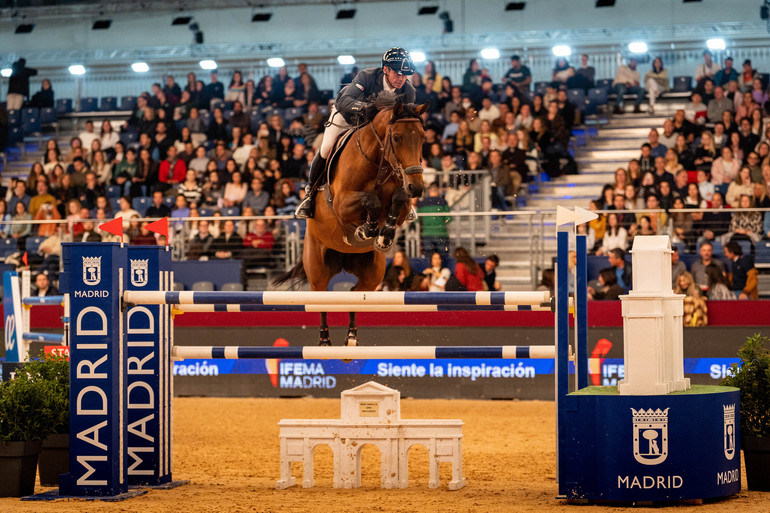 "I am lucky to have two extraordinary horses like Caracole de La Roque and Donatello d'Auge," Epaillard says. Photo © Madrid Horse Week.
---
Julien Epaillard has had a year to remember, which has placed him third on the world ranking and has allowed him to make his first World Championship with his country's team. The Frenchman arrived in Madrid with a record number of international victories in one year and with the intention of matching his memorable performance in 2021, an edition in which he won the three most important competitions, including the World Cup.
Interview by Oxer Sport for Madrid Horse Week
---
Are you at the best moment of your sports career?
I think so. I am lucky to have two extraordinary horses like Caracole de La Roque and Donatello d'Auge. The mare gained a lot of experience at the World Championships and is becoming more and more competitive and the gelding is only 9 years old but, he is also winning a lot because he has incredible quality.
You are now ranked no. 3 in the world. Is reaching no. 1 your big goal?
Being number 1 is important in the career of an athlete but to achieve it you need a lot of Grand Prix horses and now I only have two to jump 5* competitions. What I have to do is to plan well, adapt to what each horse needs, think about what is best for them and not about the ranking, that's why I decided not to go to Verona and Stuttgart. The leader, Henrik von Eckerman, has won a lot of points in championships, I win a lot of classes but in championships I haven't done anything so far. Now I have the Olympic Games in Paris much more on my mind than being the world no. 1.
You have been winning classes for many years but it was not until 2022 that you reached this high position on the ranking and competed on your first World Championship. What has changed?
There are many factors. Now I have great horses, I try to listen to them, I also try to evolve my work system. I have been a professional since I was 16 years old, now I have 45 years and much more experience. I have made many mistakes, but I have learned from them and when I make one, I try to correct it. There are many things.
Your best horse now is Caracole de La Roque, with whom you have an impressive run of results. How is she?
She was born at the Hecart family's home. She competed with them, and in September last year Michel sent her to me as he has done other times with other horses. He told me that she was extraordinary but that we had to start almost from scratch because she had almost no experience due to the pandemic. She started doing 1.30m classes and ended up doing the World Championship and winning Grand Prix classes. We knew she had enormous potential but also a lot of blood and we had to teach her to use that energy in a positive way. Not against the rider but with the rider. It was difficult in that sense but now she is with me, maybe sometimes the control over her is not perfect but she makes up for it with her quality, her strength and her genius. She is, without a doubt, one of the best horses I have ever ridden in my life.
Paris 2024 as a major goal - with her or with Donatello?
It is still too early to tell but it is better to have two options than one. I will try to prepare Donatello for the European Championships in 2023 because Caracole has already done a World Championship. Now new horses will come to me, and we will see.

What is the basis of your working method?
I jump a lot at home but small. Three times a week I do 18 jumps of no more than one meter, three minutes of walk and I do another 18. It is dressage work but with fences in which I look for relaxation, and control, and that the horses do not force and understand me. I believe that the muscles work differently when you jump than when you don't jump. When I have a horse that has been out of competition for a while, then I jump less but a little bigger. I also like to jump the horses in small classes from time to time. I think it is good for them to know that not every time they are going to enter a competition arena they are going to make big efforts. Jumping without pressure is also important.
You are one of the fastest riders in the world. Is that something you work at or is it innate?
For a horse to go very fast, it is essential that it trusts you. If you are going to take a risk with the horse, it must be convinced that you are not going to make a mistake. It takes a long time to gain a horse's trust but you can lose it in a second. To go fast, the horse must trust you and you must trust the horse.

You arrive at IMHW in a great shape and ready to try to repeat your great performance of last year. What are your memories?
I won the three big classes and it was incredible. It is a very important competition for me, Madrid is the city of my wife and my son. Spain is my second country and that is why it is very important to have good results there. Family and friends usually come and I like to be competitive in front of them so they understand why I can't always be there for them.

After winning in Lyon, is being in this year's World Cup final a goal?
No, it is not a priority. Caracole is going to rest for a couple of months after Madrid and Geneva. With Donatello I intend to ride in Mechelen, Basel and Bordeaux. He is young, the trip to Omaha would be long and his goal is the European Championships. If I qualify, I don't think I will jump the final unless I get another horse in.

Is competing and winning with home-bred horses like Donatello D'Auge a special incentive?
Yes, of course. We already won 5* Grand Prix classes with Usual Suspect D'Auge. It was an incredible experience, and now we have a lot of confidence in Donatello. To compete in Paris with a horse I have bred would be incredible. To compete in the Olympic Games is a dream for me and I hope it doesn't stay just a dream.