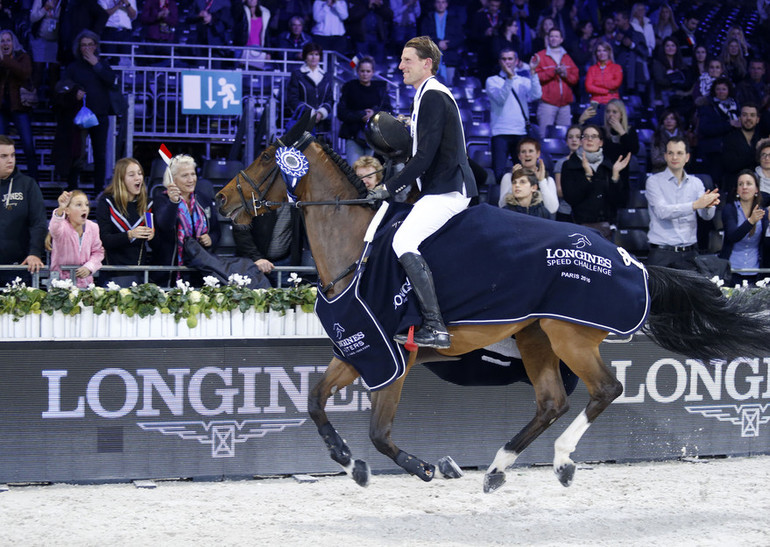 Kevin Staut and Elky van het Indihof HDC celebrate their win in the Longines Speed Challenge of Paris. Photo (c) Tiffany Van Halle.
Home hero Kevin Staut and Elky van het Indihof HDC (Toulon x Thunder van de Zuuethoeve) gave the full house at the Longines Masters of Paris value for their ticket money in Friday's Longines Speed Challenge, with a round that no one else in the competition was close to being able to match.
Unique to the Longines Masters Series, the Longines Speed Challenge urges the riders to go as fast as possible as each fault is only penalized by two seconds as opposed to the standard four. This gives less consequence to a rail down, with the riders usually giving full speed from start to finish.
Over Uliano Vezzani's Speed Challenge course, the riders were asked to jump thirteen fences with a diamond-shaped option in the center were they could choose between two b-elements in the two combinations set as fence six and seven – creating more or less risk for themselves with the reward for the riskiest choice being a quicker route to the next fence on the track.
In Friday's edition, it was Staut's compatriot Julien Epaillard that took over the lead with only eleven riders left to go in the prestigious Longines Speed Challenge with one of his trade-mark rounds on the exceptionally quick Cristallo A LM (Casall x Corofino I). However, the speed came on the expense of a pole and two seconds was added to the pair's original time of 62.80 to put them at 64.80 seconds.
A few riders later, Kevin Staut entered the ring with Elky van het Indihof HDC. This couple has been close to victory in the Longines Speed Challenge before; at the 2016-edition of the competition in Los Angeles they were runners-up after having the fastest time – but like Epaillard getting two seconds added for a pole down.
This time however, it went all the way for the popular couple who kept the spectators at the edge of their seats during this highly entertaining competition that always brings the temperature to the maximum in the intimate ring at the Longines Masters of Paris. Leaving his breaks at the in-gate, Staut piloted the super elastic 12-year-old mare to victory as they stopped the clock on an incredible 61.81 seconds with a round that blew the socks of their competitors.
Towards the end, it was McLain Ward that claimed the third place aboard Malou (Maloubet de Pleville x Carthago) – but far behind compared to the French riders as the clock stopped on 65.53 seconds for the American rider.
Staut himself paid tribute to the Parisian audience: "I would like to thank the audience who are always present, in good times and not so good ones, and who always support us. It is a real pleasure to ride here before you. The French riders have their heart set on succeeding in all the classes. There are two more days to go: We will have to rise to the occasion!"
---
Text © World of Showjumping // Picture © Tiffany Van Halle